investor-state disputes | ISDS
investor-state disputes | ISDS
Investor-state dispute settlement (ISDS) refers to a way of handling conflicts under international investment agreements whereby companies from one party are allowed to sue the government of another party. This means they can file a complaint and seek compensation for damages. Many BITs and investment chapters of FTAs allow for this if the investor's expectation of a profit has been negatively affected by some action that the host government took, such as changing a policy. The dispute is normally handled not in a public court but through a private abritration panel. The usual venues where these proceedings take place are the International Centre for Settlement of Investment Disputes (World Bank), the International Chamber of Commerce, the United Nations Commission on International Trade Law or the International Court of Justice.
ISDS is a hot topic right now because it is being challenged very strongly by concerned citizens in the context of the EU-US TTIP negotiations, the TransPacific Partnership talks and the CETA deal between Canada and the EU.
IISD | 13-Apr-2012
The arbitral tribunal in Chevron v. Ecuador has taken a series of steps in recent months suggesting that it has a broad view of its authority.
| 6-Apr-2012
India plans to abolish the investor-state dispute system and renegotiate FTAs with South Korea, Singapore, and other countries, an Indian newspaper reported.
| 1-Apr-2012
President Cristina Fernández de Kirchner questioned US president Barack Obama's recent decision to suspend trade benefits for Argentina, while complaining that "we can't even manage to get one of our lemons to enter the US market."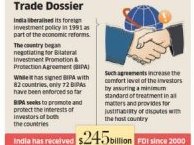 Economic Times | 31-Mar-2012
The Indian government is likely to oppose any move by Vodafone Plc to invoke the India-Netherlands Bilateral Investment Promotion and Protection Agreement (BIPA) if it is forced to cough up Rs 12,000 crore in taxes on the grounds that the investment was routed through several step down firms based in different countries and that the treaty does not cover tax disputes.
First Post | 30-Mar-2012
Fearing the Indian government will use new tax laws to trap it back around Rs 12,000 crore in taxes, the world's largest mobile operator, Vodafone, may invoke a bilateral investment treaty between India and the Netherlands to avoid doing so.
Economic Times | 29-Mar-2012
Norway's Telenor will seek 'compensation for all investment, guarantees and damages' if the Indian government fails to sort out issues related to its licence cancellation within the next six months, the company said.
ICTSD | 29-Mar-2012
Trade frictions are on the rise between Washington and Buenos Aires, after US President Barack Obama announced that the US would be suspending Argentina from its Generalised System of Preferences programme for failure to pay arbitration awards in two disputes involving US investors.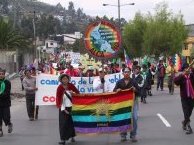 Policymic | 29-Mar-2012
Ecuadorian communities learned from the way that Chevron's operations flouted environmental law in the 1990's, that once entrusted to foreign businesses their natural resources are usually squandered.
| 26-Mar-2012
U.S. President Barack Obama said on Monday he was suspending trade benefits for Argentina because of the South American country's failure to pay more than $300 million in compensation awards in two disputes involving American investors.
| 21-Mar-2012
The United States could soon suspend trade benefits for Argentina because of that country's failure to pay awards in two long-running investment disputes with U.S. companies, a U.S. trade official said on Monday.
| ... | | | | | 4250 | | | | | ... |