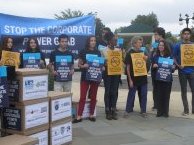 Canada and the United States have signed about 180 investment agreements.
They are both party to the North American Free Trade Agreement (NAFTA) with Mexico. Sixty-seven disputes were launched under NAFTA.
NAFTA was recently renegotiated and replaced by the US-Mexico-Canada Agreement (USMCA) that was signed in November 2018 and is yet to enter in force. The investor-state dispute settlement (ISDS) mechanism between the US and Canada, and between Mexico and Canada has been removed – even though it is included in the Trans-Pacific Partnership, to which both Mexico and Canada belong. Only limited claims are allowed between the US and Mexico, after exhaustion of local remedies. But the ISDS mechanism has been maintained between the two countries for claims pertaining to Mexico's oil and gas sector.
The US is also party to the Dominican Republic–Central America Free Trade Agreement (CAFTA), with six Central American states. US investors have initiated all 11 known CAFTA disputes.
Canada has an investment treaty with China and is party to the Comprehensive Economic and Trade Agreement (CETA) with the European Union. CETA includes a revised ISDS mechanism, the investment court system, which has been critiqued for not addressing the core of the problem behind the mechanism.
US investors have extensively used the ISDS mechanism. They have initiated around 180 disputes, over 17% of all known cases, making the US the most frequent home state of investors. The US has never lost an ISDS case.
Canadian investors have initiated about 50 disputes and Canada has been the fourth most frequent target among 'developed' states (9th globally), with 29 cases.
Photo: Public Citizen
(April 2020)
Radio-Canada | 24-Nov-2021
L'entreprise TC Énergie a déposé une demande d'arbitrage en vertu des règles de l'ALENA demandant au gouvernement américain une compensation financière pour avoir annulé la construction du pipeline Keystone XL.
Courthouse News | 17-Nov-2021
An American energy firm accuses Canada of violating the North American Free Trade Agreement, which has since been replaced by a new free trade deal.
Romania-Insider | 17-Nov-2021
The court accepted Roşia Montana's inclusion on the UNESCO heritage list as a piece of evidence, as an argument for the "bad faith of the Romanian state" invoked by the Canadian company.
CIAR Global | 22-Oct-2021
La compañía estadounidense Metlife se une a aseguradoras como Chilena Consolidada y la también estadounidense Ohio y ha enviado un aviso de intención de acudir a arbitraje al Gobierno chileno iniciando el procedimiento que da paso a las negociaciones previas para evitar el arbitraje internacional por el adelanto de rentas vitalicias.
New Straits Times | 20-Oct-2021
Sudan's government confiscated Petronas's assets on the grounds that they were acquired "through illegal means" during Omar al-Bashir's regime. Some argue that Sudan is turning on its allies "under the pretext of fighting corruption".
Lawyer Monthly | 18-Oct-2021
Air Canada was awarded $20,790,574 million as repatriation, an amount to which it was entitled after set off against sums that were also owed to Venezuela.
The Monitor | 13-Oct-2021
A Canadian company's successful challenge to a precautionary mining ban in Colombia shows how little investor–state dispute panels care about the right to regulate.
OpinioJuris | 26-Aug-2021
The new resource extraction regime continued to consolidate through the approval of new development plans, new standards, and the signing of international investment agreements.
| ... | | | | | 50 | | | | | ... |