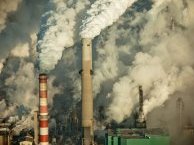 La mayoría de las disputas entre inversionistas y Estados (ISDS) tienen que ver con asuntos ambientales. Las corporaciones usan cada vez más el sistema de ISDS que se encuentra en tratados de inversiones y de comercio a fin de desafiar las políticas ambientales.Para finales de 2019, cerca de 41% de todos los casos llevados ante el CIADI se relacionaron con recursos naturales y energéticos.
Los casos más conocidos incluyen:
• Lone Pine Resources (EUA) vs. Canadá: Lone Pine desafió la moratoria de Quebec a la controvertida práctica de la fractura hidráulica, o fracking, para buscar gas natural. El gobierno provincial de Canadá declaró una moratoria en 2011 con el fin de conducir evaluaciones de impacto ambiental del método de extracción, que es acusado ampliamente del lixiviado de químicos y gases a las aguas terrestres y de la contaminación del aire. El caso sigue en disputa (se invoca el TLCAN).
• Bilcon (EUA) vs. Canadá: la corporación estadounidense desafió los requisitos ambientales canadienses que afectan sus planes de abrir una cantera de basalto y una terminal marina en Nueva Escocia. En 2015, un tribunal de arbitraje decidió que la voluntad del gobierno era un obstáculo a las expectativas del inversionista. Entonces Bilcon obtuvo 7 millones de dólares, más intereses (se invocó el TLCAN).
• Vattenfall (Suecia) vs. Alemania: en 2007, la corporación de energía obtuvo un permiso provisional para construir una planta activada con carbón como combustible cerca de la ciudad de Hamburgo. En un esfuerzo por proteger el río Elba de las aguas residuales desechadas por la planta, se añadieron restricciones ambientales para la aprobación final de su construcción. El inversionista comenzó una disputa arguyendo que haría inviable su proyecto. El caso fue finiquitado en 2011, y la ciudad de Hamburgo accedió a bajar sus requisitos ambientales (se invocó el ECT)
Foto: Kris Krug / CC BY-NC-ND 2.0
(marzo 2020)
Mining Watch | 12-may-2015
In anticipation of an imminent ruling from a little-known arbitration tribunal at the World Bank that could force El Salvador to pay Canadian-Australian mining firm OceanaGold US$301 million, a Salvadoran delegation is visiting Canada to discuss how investor-state arbitration threatens democratic decision-making, public health and the environment here and beyond our borders.
Global Arbitration News | 6-may-2015
The Italian government has recently declared its withdrawal from the Energy Charter Treaty ("ECT").
Equal Times | 15-abr-2015
The Central American state of El Salvador could be forced to pay US$301 million in damages to an Australian-Canadian mining company, OceanaGold, after the company's application for a mining license was rejected on the basis of the projected environmental damage it would cause.
Amazon Watch | 9-abr-2015
An apparent Chevron whistleblower has sent Amazon Watch dozens of internal company videos showing Chevron employees and consultants manipulating evidence linked to the oil giant's extensive contamination - and legal dispute - in Ecuador.
Huffington Post | 28-mar-2015
In Chevron's massive international arbitration directly against the government of Ecuador, it has gotten everything it has asked for from the panel of arbitrators — until last week.
Economic Times | 25-mar-2015
Cairn Plc is seeking compensation from the government of India for the steep fall in the value of its shares in Vedanta-controlled Cairn India, which it is not allowed to sell until it settles a controversial retrospective tax demand of $1.60 billion, under the UK-India Bilateral Investment Treaty.
| ... | | | | | 1510 | | | | | ... |