investor-state disputes | ISDS
investor-state disputes | ISDS
Investor-state dispute settlement (ISDS) refers to a way of handling conflicts under international investment agreements whereby companies from one party are allowed to sue the government of another party. This means they can file a complaint and seek compensation for damages. Many BITs and investment chapters of FTAs allow for this if the investor's expectation of a profit has been negatively affected by some action that the host government took, such as changing a policy. The dispute is normally handled not in a public court but through a private abritration panel. The usual venues where these proceedings take place are the International Centre for Settlement of Investment Disputes (World Bank), the International Chamber of Commerce, the United Nations Commission on International Trade Law or the International Court of Justice.
ISDS is a hot topic right now because it is being challenged very strongly by concerned citizens in the context of the EU-US TTIP negotiations, the TransPacific Partnership talks and the CETA deal between Canada and the EU.
Philip Morris Ltd | 20-Dec-2011
"We believe plain packaging violates the Australian Constitution because the Government is seeking to acquire our property without paying compensation," the company states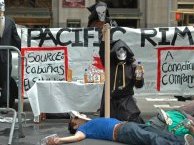 AFL-CIO | 15-Dec-2011
Tomorrow, the AFL-CIO will join the Institute for Policy Studies (IPS) and activists from a range of labor and environmental groups to converge on the World Bank headquarters in Washington, D.C., for a noon protest in opposition to a CAFTA case being brought against the Salvadoran government by Pacific Rim.
| 6-Dec-2011
Canadian company, the Loewen Group has found itself embroiled in a legal battle after investing in a U.S. funeral home project. Loewen was charged by the Mississippi state court with violating its contract.
| 4-Dec-2011
Judges are currently involved in a heated online and in-person debate over comments about the South Korea-U.S. Free Trade Agreement made by Incheon District Court Senior Judge Kim Ha-neul.
| 26-Nov-2011
Korea's Office of the Minister for Trade recently attempted to recruit lawyers specializing in international trade before the effectuation of the free trade agreement with the European Union.
Canberra Times | 25-Nov-2011
Despite the compelling rationale that the public has a stake, Philip Morris' claims will not be heard in an Australian court by respected judges, but by an ad-hoc tribunal that will meet in Singapore or another foreign country.
| 22-Nov-2011
The ruling Grand National Party (GNP) placed pressure on the Democratic Party on Monday to state how it would respond if a written agreement for investor-state dispute (ISD) provision renegotiations for the South Korea-U.S. Free Trade Agreement (KORUS FTA) were received from the South Korean and U.S. trade officials.
| 21-Nov-2011
The Federal Government's plain packaging laws for cigarettes have now passed both houses of Parliament but are facing their first legal challenge.
| 9-Nov-2011
The Ministry of Justice submitted a formal opinion strongly recommending caution with regard to the investor-state dispute (ISD) system, a key item of contention with the South Korea-United States Free Trade Agreement.
| 6-Nov-2011
The main opposition Democratic Party stepped up its public campaign against the Korea-U.S. Free Trade Agreement over the weekend, as the ruling Grand National Party mulled pushing a final vote at a plenary session Wednesday.
| ... | | | | | 4260 | | | | | ... |