litiges investisseurs-état | ISDS
litiges investisseurs-état | ISDS
Le mécanisme de règlement des différends entre investisseurs et États (RDIE ou ISDS, selon son sigle anglais) désigne une modalité d'arbitrage des conflits émergeant dans le cadre d'accords d'investissement internationaux selon laquelle les entreprises de l'une des parties sont autorisées à poursuivre en justice le gouvernement de l'autre partie. Ceci signifie qu'elles peuvent porter plainte et réclamer des dommages et intérêts. De nombreux traités d'investissement bilatéraux et chapitres sur l'investissement d'ALE incluent des dispositions autorisant ce mécanisme si les bénéfices escomptés par l'investisseur ont été négativement affectés par une mesure prise par le pays hôte, telle que le changement d'une politique publique. Le différend est généralement arbitré non pas par un tribunal public, mais par une cour privée. Ces affaires sont généralement traitées par le Centre international pour le règlement des différends relatifs aux investissements (Banque mondiale), la Chambre de commerce internationale, la Commission des Nations Unies sur le droit commercial ou la Cour internationale de justice.
Le RDIE est un sujet qui suscite à l'heure actuelle un vif intérêt car il cristallise une forte opposition de la part de citoyens préoccupés par les négociations du TTIP entre l'UE et les États-Unis, les discussions sur l'Accord de partenariat transpacifique et l'Accord économique et commercial global entre le Canada et l'UE.
| 3-nov-2013
Canada has confirmed its ratification of the World Bank's ICSID Convention by depositing its "Instrument of Ratification" with the International Centre for Settlement of Investment Disputes on Nov. 1, 2013.
| 2-nov-2013
Pakistan has landed in hot waters following the provisional decision of ICSID (international court for settlement of investment disputes) announced on October 16 which says that government of Pakistan should allow the Karkey's vessel based power generation unit to move from Karachi port, as Supreme Court's verdict is quite vivid that says that unless and until Karkey gives $ 128 million to Pakistan it cannot be allowed to leave the port, Pakistan Observer has learnt reliably.
tralac | 2-nov-2013
Proposed legal framework to replace previous BITs
| 31-oct-2013
1st of November 2013 is an important date if one wants to get rid of this outdated treaty which poses growing risk to policy making in the public interest
ATTAC Argentina | 30-oct-2013
ATTAC Argentina declare that we reject the offer made by the Argentine government to pay 500 million dollars to five transnational corporations that sued our country before the International Centre for the Settlement of Investment Disputes (ICSID).
Computerworld | 11-oct-2013
Glyn Moody addresses the EU's latest document "Incorrect claims about investor-state dispute settlement"
ATTAC Argentina | 4-oct-2013
Desde ATTAC Argentina manifestamos nuestro rechazo al avance manifestado por el Gobierno argentino de pagar 500 millones de dólares a cinco empresas transnacionales que demandaron al país en el Centro Internacional de Arreglo de Diferencias sobre Inversiones (CIADI).
La República, Perú | 3-oct-2013
Las demandas de arbitraje contra los Estados por parte de los inversionistas son uno de los más importantes "súper derechos" que les confieren los TLC. Uno de sus usos más perversos de estos derechos es la posibilidad de ejercer presión contra los Estados, para que retrocedan en las medidas asumidas, amenazándolos con el inicio de un arbitraje.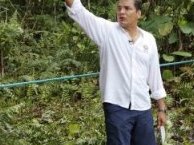 AP | 20-sep-2013
Plaintiffs' hopes for collecting a $19 billion judgment awarded by an Ecuadorean court against Chevron Corp. for oil contamination in the Amazon have suffered another potential setback.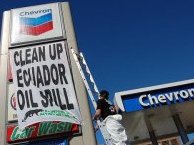 CNN | 19-sep-2013
In an apparent coup for the oil giant's efforts to undermine a $19 billion environmental judgment in Ecuador, an international tribunal has suggested that the Ecuadorians' claims in that case were all settled and extinguished in 1995
| ... | | | | | 4140 | | | | | ... |