litigios inversionista-estado | ISDS
litigios inversionista-estado | ISDS
Solución de Controversias Inversionista-Estado (ISDS por sus siglas en inglés) se refiere a una manera de manejar los conflictos en virtud de acuerdos internacionales de inversión mediante el cual a las empresas de una de las partes se les permite demandar el gobierno de otra parte. Esto significa que pueden presentar una queja y pedir una indemnización por daños y perjuicios. Muchos TBI y los capítulos sobre inversiones de los TLC permiten esto si las expectativas de beneficio de un inversionista se han visto afectadas negativamente por alguna acción que el gobierno anfitrión tomó, como por ejemplo el cambio de una política pública. La disputa normalmente se maneja no en un tribunal público sino a través de un panel arbitral privado. Los lugares habituales donde estas actuaciones se llevan a cabo son el Centro Internacional de Arreglo de Diferencias relativas a Inversiones (Banco Mundial), la Cámara de Comercio Internacional, la Comisión de las Naciones Unidas para el Derecho Mercantil Internacional o la Corte Internacional de Justicia.
El ISDS es un tema candente en estos momentos, ya que está siendo cuestionado fuertemente por los movimientos ciudadanos en el contexto de las negociaciones del TTIP UE-EE.UU, las conversaciones del Acuerdo Transpacífico y el acuerdo CETA entre Canadá y la UE.
REDES - AT | 16-jul-2013
Una muy mala noticia para Uruguay y el Convenio Marco de la OMS sobre Control del Tabaco.
| 10-jul-2013
Concerns about objectivity and accountability of investment dispute arbitrators have prompted calls for tougher ethical guidelines as caseloads have exploded.
TDM | 4-jul-2013
Transnational Dispute Management are pleased to announce a forthcoming special issue: "Reform of Investor-State Dispute Settlement: In Search of A Roadmap."
Bloomberg | 3-jul-2013
Japan Tobacco Inc., Asia's biggest listed cigarette maker, sued the government of Thailand over a plan to increase the size of health warnings on cigarette packages, claiming the move is unconstitutional.
| 25-jun-2013
Latin American states are the only ones in the world that have decided to withdraw from the ICSID Convention. It is also the only region in the world considering the necessity to find an alternative to ICSID mechanism.
Tobacco Reporter | 19-jun-2013
Philip Morris International expects a decision to be made this month or next on a challenge by Uruguay as to whether an international tribunal set to hear bilateral investment treaty complaints has jurisdiction over the matter.
The News | 18-jun-2013
A Turkish power generation company has filed a case against the Pakistan government at ICSID for compensation of losses worth 700 million dollars
A transatlantic corporate bill of rights | 12-jun-2013
Leaked draft versions of the EU negotiating mandate for a far-reaching free trade agreement with the US reveal the European Commission's plans to enshrine more powers for corporations in the deal. The proposal follows a persistent campaign by industry lobby groups and law firms to empower large companies to challenge regulations both at home and abroad if they affect their profits.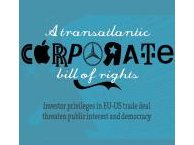 TNI | 11-jun-2013
This new briefing from CEO and TNI analyses leaked proposals for investor-state dispute settlement under the proposed EU-US FTA
Bernama | 6-jun-2013
Argentina's Supreme Court revoked a US$19 billion embargo on the assets and future income of Chevron Corp.'s Argentina subsidiary, giving the US oil giant a victory in a decades-old battle with indigenous groups in Ecuador.
| ... | | | | | 4130 | | | | | ... |