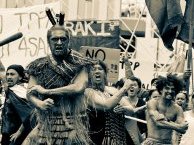 Los Estados del Pacifico han firmado cerca de 72 acuerdos de inversión y comercio, 39 de los cuales fue Australia la que los concretó.
La mayor parte de los arreglos de comercio de Australia especifican arbitrajes entre inversionistas y Estados ISDS, incluyendo aquellos con China (como en el ChAFTA, que está en su etapa final de ratificación), India, Corea, México o Turquía.
Tras una disputa con Philip Morris por una ley anti-tabaco, Australia alegó que se restringiría de involucrarse en nuevos acuerdos de inversión que implicaran ISDS. Sin embargo Australia firmó el ChAFTA, el TLC con Indonesia, el TLC con Hong Kong y la ATP incluye un mecanismo ISDS.
El caso de Philip Morris vs. Australia es el más conocido hasta la fecha. Cuando Australia votó la ley anti-tabaco, forzando a las tabacaleras a utilizar un empaques simples, la compañía estadounidense Philip Morris inició una disputa bajo las previsiones ISDS a través de su subsidiaria con sede en Hong Kong. Invocó el TBI entre Australia y Hong Kong debido a que no había mecanismos ISDS en el TBI de Australia con EUA. En diciembre de 2015, el tribunal declaró el caso sobreseído, por razones de procedimiento. Más de 39 millones de dólares de los contribuyentes se habrían convertido en humo, tan sólo en gastos legales. Pero Philip Morris pago sólo la mitad, dejando que los contribuyentes australianos pagaran el resto.
El Pacífico es la región más sometida a demandas. Solamente los inversionistas australianos han iniciado disputas en dos ocasiones registradas, dos de ellas con el Tratado de Carta de la Energía.
Foto: Dominic Hartnett / CC BY-NC-ND 2.0
(abril de 2020)
Australian Financial Review | 2-nov-2018
Businesses in the mining sector and beyond insist protection for Australian investors in Indonesia is required in a free trade deal.
Sydney Morning Heralds | 26-oct-2018
The UN Conference on Trade and Development new research shows that increased market power of global corporations is driving global income inequality. It recommends a review of existing regulation and trade agreements to develop "measures to curb abusive business practices."
Financial Review | 12-oct-2018
Crossbenchers are ramping up pressure on Labor at the 11th hour to reject the Trans-Pacific Partnership free trade agreement, drafting amendments that would force opposition senators to vote against the party's policy.
The Guardian | 8-ago-2018
US energy company is seeking $350m in compensation in so-called ISDS case over gas turbines in Pilbara.
The Guardian | 2-jul-2018
Two years after an FOI claim was lodged, the price of the six-year fight with Philip Morris has been revealed
Sydney Morning Herald | 20-jun-2018
Despite this growing rejection of ISDS, the Australian government claims that ambiguous general "safeguards" in the TPP-11 will protect public interest laws.
Spatial Source | 13-jun-2018
Open Source Industry Australia (OSIA) is calling upon the federal government to scrap the CPTPP over provisions that could decimate the Australian open source community.
| ... | | | | | 60 | | | | | ... |