investor-state disputes | ISDS
investor-state disputes | ISDS
Investor-state dispute settlement (ISDS) refers to a way of handling conflicts under international investment agreements whereby companies from one party are allowed to sue the government of another party. This means they can file a complaint and seek compensation for damages. Many BITs and investment chapters of FTAs allow for this if the investor's expectation of a profit has been negatively affected by some action that the host government took, such as changing a policy. The dispute is normally handled not in a public court but through a private abritration panel. The usual venues where these proceedings take place are the International Centre for Settlement of Investment Disputes (World Bank), the International Chamber of Commerce, the United Nations Commission on International Trade Law or the International Court of Justice.
ISDS is a hot topic right now because it is being challenged very strongly by concerned citizens in the context of the EU-US TTIP negotiations, the TransPacific Partnership talks and the CETA deal between Canada and the EU.
Euractiv | 17-Nov-2022
Slovenia is no longer a party to the Energy Charter Treaty after the Foreign Affairs Committee unanimously endorsed the government's proposal to withdraw.
The Australian Financial Review | 16-Nov-2022
"ISDS clauses pose a direct threat to Australia's sovereignty and the ability of the Australian government to make laws in the national interest. They have no place in any agreement which claims to have the interests of working people at heart," the Australian Council of Trade Unions said.
Farrer & Co | 16-Nov-2022
This article summarises the legal protections which may be available to investors in times of armed conflict under investment treaty arbitration.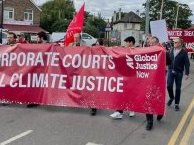 ISDS and climate | 15-Nov-2022
Las organizaciones de la sociedad civil piden a los gobiernos que eliminen la amenaza que supone para el clima el mecanismo de solución de diferencias entre inversores y Estados (ISDS por sus siglas en inglés). La siguiente declaración expone nuestras principales inquietudes y reivindicaciones. Buscamos presionar a nuestros gobiernos de cara a la COP 27 que se celebrará en noviembre de 2022.
The Guardian | 15-Nov-2022
Secret court set up under energy charter treaty accused of conflicts of interest, self-regulation issues and institutional bias.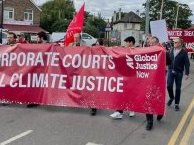 https://sites.google.com/view/isds-... | 15-Nov-2022
Civil society organisations are calling on governments to remove the threat that ISDS poses to the climate. The following statement outlines our primary concerns and demands. We seek to put pressure on our governments as they meet at COP 27 in November 2022.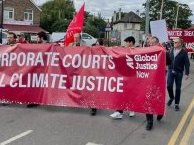 Attac France | 15-Nov-2022
Les organisations de la société civile appellent les gouvernements à éliminer la menace que les mécanismes de règlement des différends entre investisseurs et États font peser sur le climat.
The Australian Financial Review | 15-Nov-2022
In a big win for unions and "fair trade" campaigners, Australian Trade Minister will announce government's vow to strip future free trade agreements of investor-state dispute settlement clauses and water them down in existing deals.
CNCD 11.11.11 | 14-Nov-2022
La modernisation du Traité sur la Charte de l'énergie, qui permet à des investisseurs de poursuivre devant des tribunaux d'arbitrage privés des États qui sortent des énergies fossiles, est insuffisante pour le rendre cohérent avec les objectifs climatiques.
| ... | | | | | 80 | | | | | ... |