investor-state disputes | ISDS
investor-state disputes | ISDS
Investor-state dispute settlement (ISDS) refers to a way of handling conflicts under international investment agreements whereby companies from one party are allowed to sue the government of another party. This means they can file a complaint and seek compensation for damages. Many BITs and investment chapters of FTAs allow for this if the investor's expectation of a profit has been negatively affected by some action that the host government took, such as changing a policy. The dispute is normally handled not in a public court but through a private abritration panel. The usual venues where these proceedings take place are the International Centre for Settlement of Investment Disputes (World Bank), the International Chamber of Commerce, the United Nations Commission on International Trade Law or the International Court of Justice.
ISDS is a hot topic right now because it is being challenged very strongly by concerned citizens in the context of the EU-US TTIP negotiations, the TransPacific Partnership talks and the CETA deal between Canada and the EU.
Euractiv | 1-Jun-2021
After four unsuccessful negotiation rounds, and with a fifth round starting this week that does not bring any silver linings in terms of outcome, the time has come for the EU and its member states to leave the ECT.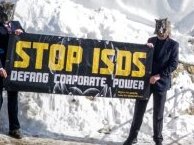 AFTINET | 31-May-2021
We call on the Australian Government to exclude ISDS from the Australia-UK FTA as has been done in the Australia-EU FTA and the RCEP.
The Express Tribune | 31-May-2021
The British Virgin Islands high court rejected the TCC plea for attachment of the Pakistan International Airlines assets but also imposed a $5 million cost as well as $50,000 penalty on the company.
The Guardian | 31-May-2021
Campaigners concerned by controversial plans for tribunals where firms can seek compensation for effect of government policies.
NDTV | 31-May-2021
The arbitral award has condoned the tax avoidance scheme adopted by Cairn Energy.
Ghana Web | 31-May-2021
The AfCFTA Secretariat has established a dispute settlement body, that will function as a full-court with the right mechanisms and structures in place to settle trade disputes.
The Leaflet | 28-May-2021
The perverse interplay of BITs with double taxation avoidance agreements has been bleeding India from the much-needed tax revenues.
Lexology | 28-May-2021
The Paris Court of Appeal has set aside a $1.1 billion award against Russia for the expropriation of the Crimean branch of Ukrainian state-owned bank Oschadbank.
Unian | 28-May-2021
The dispute is about the assets it lost in Crimea, including the Donuzlav wind farm, which is now located in the temporarily occupied territory.
Kluwer Arbitration Blog | 27-May-2021
The patent waiver initiative may give rise to claims under the expropriation standard, and to a lesser degree, under the FET standard.
| ... | | | | | 80 | | | | | ... |