litigios inversionista-estado | ISDS
litigios inversionista-estado | ISDS
Solución de Controversias Inversionista-Estado (ISDS por sus siglas en inglés) se refiere a una manera de manejar los conflictos en virtud de acuerdos internacionales de inversión mediante el cual a las empresas de una de las partes se les permite demandar el gobierno de otra parte. Esto significa que pueden presentar una queja y pedir una indemnización por daños y perjuicios. Muchos TBI y los capítulos sobre inversiones de los TLC permiten esto si las expectativas de beneficio de un inversionista se han visto afectadas negativamente por alguna acción que el gobierno anfitrión tomó, como por ejemplo el cambio de una política pública. La disputa normalmente se maneja no en un tribunal público sino a través de un panel arbitral privado. Los lugares habituales donde estas actuaciones se llevan a cabo son el Centro Internacional de Arreglo de Diferencias relativas a Inversiones (Banco Mundial), la Cámara de Comercio Internacional, la Comisión de las Naciones Unidas para el Derecho Mercantil Internacional o la Corte Internacional de Justicia.
El ISDS es un tema candente en estos momentos, ya que está siendo cuestionado fuertemente por los movimientos ciudadanos en el contexto de las negociaciones del TTIP UE-EE.UU, las conversaciones del Acuerdo Transpacífico y el acuerdo CETA entre Canadá y la UE.
| 24-abr-2012
The European Union has warned Argentina that it risks jeopardizing trade ties over Buenos Aires' plans to expropriate a unit of Spanish oil company Repsol YPF SA (REP.MC) and impose a series of import restrictions and that Brussels stands ready to take retaliatory action.
| 20-abr-2012
The country should carefully study investment provisions before entering into foreign trade agreements (FTAs) as these may infringe on government's regulatory power on foreign firms, an advocacy group on Friday said.
IISD | 13-abr-2012
The arbitral tribunal in Chevron v. Ecuador has taken a series of steps in recent months suggesting that it has a broad view of its authority.
| 6-abr-2012
India plans to abolish the investor-state dispute system and renegotiate FTAs with South Korea, Singapore, and other countries, an Indian newspaper reported.
| 1ro-abr-2012
President Cristina Fernández de Kirchner questioned US president Barack Obama's recent decision to suspend trade benefits for Argentina, while complaining that "we can't even manage to get one of our lemons to enter the US market."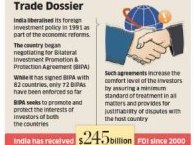 Economic Times | 31-mar-2012
The Indian government is likely to oppose any move by Vodafone Plc to invoke the India-Netherlands Bilateral Investment Promotion and Protection Agreement (BIPA) if it is forced to cough up Rs 12,000 crore in taxes on the grounds that the investment was routed through several step down firms based in different countries and that the treaty does not cover tax disputes.
First Post | 30-mar-2012
Fearing the Indian government will use new tax laws to trap it back around Rs 12,000 crore in taxes, the world's largest mobile operator, Vodafone, may invoke a bilateral investment treaty between India and the Netherlands to avoid doing so.
Economic Times | 29-mar-2012
Norway's Telenor will seek 'compensation for all investment, guarantees and damages' if the Indian government fails to sort out issues related to its licence cancellation within the next six months, the company said.
ICTSD | 29-mar-2012
Trade frictions are on the rise between Washington and Buenos Aires, after US President Barack Obama announced that the US would be suspending Argentina from its Generalised System of Preferences programme for failure to pay arbitration awards in two disputes involving US investors.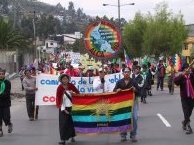 Policymic | 29-mar-2012
Ecuadorian communities learned from the way that Chevron's operations flouted environmental law in the 1990's, that once entrusted to foreign businesses their natural resources are usually squandered.
| ... | | | | | 4210 | | | | | ... |