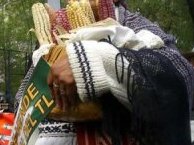 Le mécanisme de règlement des différends investisseur-Etat (ISDS en anglais) est inclus dans la plupart des accords de commerce et d'investissement. Il accorde aux investisseurs étrangers le droit de contester les lois et les régulations nationales concernant l'agriculture et l'alimentation.
Fin juin 2019, environ 4% du total des arbitrages effectués au CIRDI concernait le domaine de l'agriculture, la pêche et la foresterie.
Parmi les cas les plus célèbres :
• Corn Products International (US) c. Mexique : en 2009, CPI, producteur de sirop de maïs riche en fructose, un édulcorant lié à l'obésité, a obtenu 58,4 millions de dollars américains. L'investisseur contestait au Mexique une taxe sur ce sirop (ALENA invoqué).
• Cargill (US) c. Mexique : en 2009, un tribunal arbitral a ordonné au Mexique de payer 90,7 millions de dollars américains à l'investisseur, un géant de agro-alimentaire, des suites d'un conflit sur la même taxe sur le sirop de maïs riche en fructose mentionné ci-dessus (ALENA invoqué).
• Micula (Suède) vs. Roumanie : la multinationale suédoise d'agro-alimentaire a obtenu 250 millions de dollars américains en 2013, suite à l'annulation de primes versées par le gouvernement roumain afin qu'il se conforme à la législation européenne (TBI Roumanie-Suède invoqué).
Photo : Indymedia Mexico
(mars 2020)
People over Profit | 7-sep-2017
Philippine civil society groups and social movements stand together to oppose RCEP
People's Forum against FTAs and RCEP | 28-jui-2017
"Tell us at least now who gains from RCEP," People's Forum challenges the Indian government as the 19th round of RCEP negotiations comes to an end
Law Gazette | 26-jui-2017
The High Court has granted two investors permission to appeal a decision that stayed enforcement of a dispute resolution award, in a case that centres on EU rules surrounding state aid.
Focus on the Global South | 1er-jui-2017
In the recent "RCEP 18th Round of Talks," members of civil society organizations and social movements presented their positions vis-à-vis the RCEP.
| ... | | | | | 50 | | | | | ... |