investor-state disputes | ISDS
investor-state disputes | ISDS
Investor-state dispute settlement (ISDS) refers to a way of handling conflicts under international investment agreements whereby companies from one party are allowed to sue the government of another party. This means they can file a complaint and seek compensation for damages. Many BITs and investment chapters of FTAs allow for this if the investor's expectation of a profit has been negatively affected by some action that the host government took, such as changing a policy. The dispute is normally handled not in a public court but through a private abritration panel. The usual venues where these proceedings take place are the International Centre for Settlement of Investment Disputes (World Bank), the International Chamber of Commerce, the United Nations Commission on International Trade Law or the International Court of Justice.
ISDS is a hot topic right now because it is being challenged very strongly by concerned citizens in the context of the EU-US TTIP negotiations, the TransPacific Partnership talks and the CETA deal between Canada and the EU.
Courthouse News | 17-Nov-2021
An American energy firm accuses Canada of violating the North American Free Trade Agreement, which has since been replaced by a new free trade deal.
Romania-Insider | 17-Nov-2021
The court accepted Roşia Montana's inclusion on the UNESCO heritage list as a piece of evidence, as an argument for the "bad faith of the Romanian state" invoked by the Canadian company.
Egypt Today | 16-Nov-2021
The arbitral tribunal rejected the requesting company's request to compensate it in the amount of $29.3 million in addition to the accrued interests.
France 24 | 16-Nov-2021
Governments which enact climate legislation risk being sued for trillions of dollars by fossil fuel companies seeking compensation for lost revenue and stranded assets.
Sud Ouest | 16-Nov-2021
Au fur et à mesure que les pays diminuent la part des énergies fossiles, les géants du pétrole ou du charbon ont recours à des tribunaux d'arbitrage qui leur permettent de poursuivre les Etats.
CIAR Global | 9-Nov-2021
Organizaciones nacionales e internacionales de la sociedad civil rechazan y critican la reciente decisión del tribunal del CIADI, que declara a Colombia responsable de los daños.
Chile Mejor sin TLC | 9-Nov-2021
Chile es el país de la región con la mayor cantidad de tratados internacionales que incluyen capítulos de protección de las inversiones extranjeras.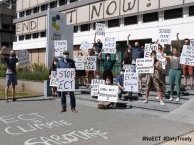 AFTINET | 8-Nov-2021
In a significant step forward in the campaign against Investor-State Dispute Settlements (ISDS), Australia has announced its withdrawal from its signatory status to the Energy Charter Treaty.
Le Figaro | 5-Nov-2021
La Cour suprême néerlandaise a annulé la condamnation de Moscou à verser 50 milliards de dollars d'indemnisation aux ex-actionnaires de l'ancien géant pétrolier Ioukos.
The Moscow Times | 5-Nov-2021
The Dutch supreme court overturned an order for Russia to pay $50 billion to former shareholders in dismantled oil giant Yukos, but shunted the lengthy legal saga back to a lower court for more hearings.