investor-state disputes | ISDS
investor-state disputes | ISDS
Investor-state dispute settlement (ISDS) refers to a way of handling conflicts under international investment agreements whereby companies from one party are allowed to sue the government of another party. This means they can file a complaint and seek compensation for damages. Many BITs and investment chapters of FTAs allow for this if the investor's expectation of a profit has been negatively affected by some action that the host government took, such as changing a policy. The dispute is normally handled not in a public court but through a private abritration panel. The usual venues where these proceedings take place are the International Centre for Settlement of Investment Disputes (World Bank), the International Chamber of Commerce, the United Nations Commission on International Trade Law or the International Court of Justice.
ISDS is a hot topic right now because it is being challenged very strongly by concerned citizens in the context of the EU-US TTIP negotiations, the TransPacific Partnership talks and the CETA deal between Canada and the EU.
CCSI | 3-Nov-2022
A wholly new international investment regime designed with climate and other global goals in mind could be used as a tool to accelerate the investments needed to address the climate crisis.
The Real News Network | 3-Nov-2022
US senators argue that abolishing special economic zones known as ZEDEs would violate the provisions of CAFTA-DR, including the provision ensuring "fair and equitable treatment and full protection and security."
Upstream | 2-Nov-2022
UK-based Rockhopper Exploration has been dealt a blow in its protracted legal battle with Italy with the European nation applying to the ICSID to annul the €190 million payment it was ordered to make.
No TCI | 1-Nov-2022
El Gobierno de España ha oficializado su decisión de salirse del Tratado de la Carta de la Energía, a través de una carta enviada a la Comisión Europea.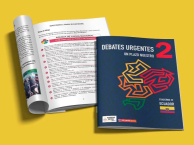 América Latina Mejor sin TLC | 1-Nov-2022
La Plataforma América Latina Mejor Sin TLC presenta el segundo número de la serie "Debates Urgentes". En este caso se trata de un material elaborado por Ecuador Decide Mejor Sin TLC.
Oil & Gas Magazine | 28-Oct-2022
En medio de las consultadas por presuntas violaciones al TMEC en energía, piden renuncia a funcionarios responsables de esas tareas.
CIAR Global | 27-Oct-2022
La Comisión Europea muestra su disconformidad con el retiro del Tratado de la Carta de la Energía de los cinco países que han dado este paso y advierte que es mejor defender la negociación desde dentro, puesto que todos los que renuncien al TCE tendrán que someterse a las viejas reglas durante 20 años más.
African Climate News | 26-Oct-2022
African countries are increasingly becoming signatories to the ECT potentially tying the hands of government to freely design their climate policies.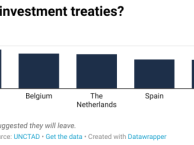 RTBF | 26-Oct-2022
La ministre fédérale du Climat Zakia Khattabi a répété lundi être en faveur d'un retrait de la Belgique du Traité sur la Charte de l'Énergie.
| ... | | | | | 50 | | | | | ... |