litigios inversionista-estado | ISDS
litigios inversionista-estado | ISDS
Solución de Controversias Inversionista-Estado (ISDS por sus siglas en inglés) se refiere a una manera de manejar los conflictos en virtud de acuerdos internacionales de inversión mediante el cual a las empresas de una de las partes se les permite demandar el gobierno de otra parte. Esto significa que pueden presentar una queja y pedir una indemnización por daños y perjuicios. Muchos TBI y los capítulos sobre inversiones de los TLC permiten esto si las expectativas de beneficio de un inversionista se han visto afectadas negativamente por alguna acción que el gobierno anfitrión tomó, como por ejemplo el cambio de una política pública. La disputa normalmente se maneja no en un tribunal público sino a través de un panel arbitral privado. Los lugares habituales donde estas actuaciones se llevan a cabo son el Centro Internacional de Arreglo de Diferencias relativas a Inversiones (Banco Mundial), la Cámara de Comercio Internacional, la Comisión de las Naciones Unidas para el Derecho Mercantil Internacional o la Corte Internacional de Justicia.
El ISDS es un tema candente en estos momentos, ya que está siendo cuestionado fuertemente por los movimientos ciudadanos en el contexto de las negociaciones del TTIP UE-EE.UU, las conversaciones del Acuerdo Transpacífico y el acuerdo CETA entre Canadá y la UE.
IPS | 26-may-2006
Showing the door to Occidental Petroleum (Oxy) and scuttling US free trade negotiations have long been agenda priorities for Ecuadorian social movements and political sectors. But following government steps that have all but made these goals a reality, the atmosphere seems more anxious than celebratory.
MarketWatch | 24-may-2006
Ecuador will oppose an arbitration suit filed last week by Occidental Petroleum Corp (OXY) with the World Bank's International Center for Investment Disputes in Washington, DC, said Ecuadorean Attorney General Jose Maria Borja.
ANTARA | 18-may-2006
The US-based Occidental Petroleum Company has filed an arbitration claim against Quito for canceling its exploration rights, a move that resulted in a suspension of free trade talks with Washington.
| 18-may-2006
US-based Occidental Petroleum has responded swiftly to a move by the Ecuadorian Government to kick the company out of Ecuador. The firm filed a request for arbitration with the Washington-based International Centre for Settlement of Investment Disputes (ICSID) yesterday. The company's claim is expected to be for at least $1 Billion (US) in damages.
Manila Bulletin | 18-may-2006
The Philippines and Japan are moving towards adopting arbitration procedures in settling disputes to avoid lengthy and expensive court battles in protecting investments from both sides as they finalize their proposed bilateral free trade pact.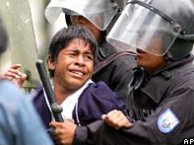 BBC | 21-ene-2006
Students and police have clashed again in Ecuador, as protests against a possible rise in bus fares entered a second week. The students also want the government to cancel its contract with the Occidental Petroleum Corporation and for it to refuse to join the proposed Free Trade Agreement of the Americas.
San Francisco Chronicle | 19-ene-2006
San Francisco-based Bechtel Corp. has dropped a $25 million dispute against the Bolivian government for canceling a water contract, after major street demonstrations forced a Bechtel-owned subsidiary to withdraw from Bolivia's third-largest city.
| 5-ene-2006
The Office of the Solicitor General (OSG) yesterday asked the Supreme Court to reconsider its decision allowing the government to take over Terminal 3 of the Ninoy Aquino International Airport (NAIA) only after payment of an initial P3.002 billion to the Philippine International Air Terminals Co. (PIATCO) representing the proffered value of the facilities.
Khaleej Times | 5-ene-2006
A high powered US delegation is arriving here on 18 of this month to hold talks with the Pakistani authorities to finalise the BIT, in the absence of which, Washington was unprepared to sign Free Trade Agreement (FTA) with Pakistan.
Dow Jones | 23-dic-2005
Ecuador's attorney general Thursday said he expects a U.K court to rule in March on a dispute between the government and U.S. oil firm Occidental Petroleum Company (OXY).
| ... | | | | | 4560 | | | | | ... |