litiges investisseurs-état | ISDS
litiges investisseurs-état | ISDS
Le mécanisme de règlement des différends entre investisseurs et États (RDIE ou ISDS, selon son sigle anglais) désigne une modalité d'arbitrage des conflits émergeant dans le cadre d'accords d'investissement internationaux selon laquelle les entreprises de l'une des parties sont autorisées à poursuivre en justice le gouvernement de l'autre partie. Ceci signifie qu'elles peuvent porter plainte et réclamer des dommages et intérêts. De nombreux traités d'investissement bilatéraux et chapitres sur l'investissement d'ALE incluent des dispositions autorisant ce mécanisme si les bénéfices escomptés par l'investisseur ont été négativement affectés par une mesure prise par le pays hôte, telle que le changement d'une politique publique. Le différend est généralement arbitré non pas par un tribunal public, mais par une cour privée. Ces affaires sont généralement traitées par le Centre international pour le règlement des différends relatifs aux investissements (Banque mondiale), la Chambre de commerce internationale, la Commission des Nations Unies sur le droit commercial ou la Cour internationale de justice.
Le RDIE est un sujet qui suscite à l'heure actuelle un vif intérêt car il cristallise une forte opposition de la part de citoyens préoccupés par les négociations du TTIP entre l'UE et les États-Unis, les discussions sur l'Accord de partenariat transpacifique et l'Accord économique et commercial global entre le Canada et l'UE.
The Hankyoreh | 3-jan-2012
The experiences of former judge Abner Mikva, an arbitrator in a NAFTA dispute, demonstrate how he was pressured to favor the interests of the American establishment
Philip Morris Ltd | 20-déc-2011
"We believe plain packaging violates the Australian Constitution because the Government is seeking to acquire our property without paying compensation," the company states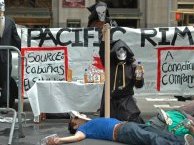 AFL-CIO | 15-déc-2011
Tomorrow, the AFL-CIO will join the Institute for Policy Studies (IPS) and activists from a range of labor and environmental groups to converge on the World Bank headquarters in Washington, D.C., for a noon protest in opposition to a CAFTA case being brought against the Salvadoran government by Pacific Rim.
| 6-déc-2011
Canadian company, the Loewen Group has found itself embroiled in a legal battle after investing in a U.S. funeral home project. Loewen was charged by the Mississippi state court with violating its contract.
| 4-déc-2011
Judges are currently involved in a heated online and in-person debate over comments about the South Korea-U.S. Free Trade Agreement made by Incheon District Court Senior Judge Kim Ha-neul.
| 26-nov-2011
Korea's Office of the Minister for Trade recently attempted to recruit lawyers specializing in international trade before the effectuation of the free trade agreement with the European Union.
Canberra Times | 25-nov-2011
Despite the compelling rationale that the public has a stake, Philip Morris' claims will not be heard in an Australian court by respected judges, but by an ad-hoc tribunal that will meet in Singapore or another foreign country.
| 22-nov-2011
The ruling Grand National Party (GNP) placed pressure on the Democratic Party on Monday to state how it would respond if a written agreement for investor-state dispute (ISD) provision renegotiations for the South Korea-U.S. Free Trade Agreement (KORUS FTA) were received from the South Korean and U.S. trade officials.
| 21-nov-2011
The Federal Government's plain packaging laws for cigarettes have now passed both houses of Parliament but are facing their first legal challenge.
| 9-nov-2011
The Ministry of Justice submitted a formal opinion strongly recommending caution with regard to the investor-state dispute (ISD) system, a key item of contention with the South Korea-United States Free Trade Agreement.
| ... | | | | | 4360 | | | | | ... |