litigios inversionista-estado | ISDS
litigios inversionista-estado | ISDS
Solución de Controversias Inversionista-Estado (ISDS por sus siglas en inglés) se refiere a una manera de manejar los conflictos en virtud de acuerdos internacionales de inversión mediante el cual a las empresas de una de las partes se les permite demandar el gobierno de otra parte. Esto significa que pueden presentar una queja y pedir una indemnización por daños y perjuicios. Muchos TBI y los capítulos sobre inversiones de los TLC permiten esto si las expectativas de beneficio de un inversionista se han visto afectadas negativamente por alguna acción que el gobierno anfitrión tomó, como por ejemplo el cambio de una política pública. La disputa normalmente se maneja no en un tribunal público sino a través de un panel arbitral privado. Los lugares habituales donde estas actuaciones se llevan a cabo son el Centro Internacional de Arreglo de Diferencias relativas a Inversiones (Banco Mundial), la Cámara de Comercio Internacional, la Comisión de las Naciones Unidas para el Derecho Mercantil Internacional o la Corte Internacional de Justicia.
El ISDS es un tema candente en estos momentos, ya que está siendo cuestionado fuertemente por los movimientos ciudadanos en el contexto de las negociaciones del TTIP UE-EE.UU, las conversaciones del Acuerdo Transpacífico y el acuerdo CETA entre Canadá y la UE.
The Hankyoreh | 3-ene-2012
The experiences of former judge Abner Mikva, an arbitrator in a NAFTA dispute, demonstrate how he was pressured to favor the interests of the American establishment
Philip Morris Ltd | 20-dic-2011
"We believe plain packaging violates the Australian Constitution because the Government is seeking to acquire our property without paying compensation," the company states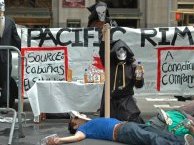 AFL-CIO | 15-dic-2011
Tomorrow, the AFL-CIO will join the Institute for Policy Studies (IPS) and activists from a range of labor and environmental groups to converge on the World Bank headquarters in Washington, D.C., for a noon protest in opposition to a CAFTA case being brought against the Salvadoran government by Pacific Rim.
| 6-dic-2011
Canadian company, the Loewen Group has found itself embroiled in a legal battle after investing in a U.S. funeral home project. Loewen was charged by the Mississippi state court with violating its contract.
| 4-dic-2011
Judges are currently involved in a heated online and in-person debate over comments about the South Korea-U.S. Free Trade Agreement made by Incheon District Court Senior Judge Kim Ha-neul.
| 26-nov-2011
Korea's Office of the Minister for Trade recently attempted to recruit lawyers specializing in international trade before the effectuation of the free trade agreement with the European Union.
Canberra Times | 25-nov-2011
Despite the compelling rationale that the public has a stake, Philip Morris' claims will not be heard in an Australian court by respected judges, but by an ad-hoc tribunal that will meet in Singapore or another foreign country.
| 22-nov-2011
The ruling Grand National Party (GNP) placed pressure on the Democratic Party on Monday to state how it would respond if a written agreement for investor-state dispute (ISD) provision renegotiations for the South Korea-U.S. Free Trade Agreement (KORUS FTA) were received from the South Korean and U.S. trade officials.
| 21-nov-2011
The Federal Government's plain packaging laws for cigarettes have now passed both houses of Parliament but are facing their first legal challenge.
| 9-nov-2011
The Ministry of Justice submitted a formal opinion strongly recommending caution with regard to the investor-state dispute (ISD) system, a key item of contention with the South Korea-United States Free Trade Agreement.
| ... | | | | | 4360 | | | | | ... |