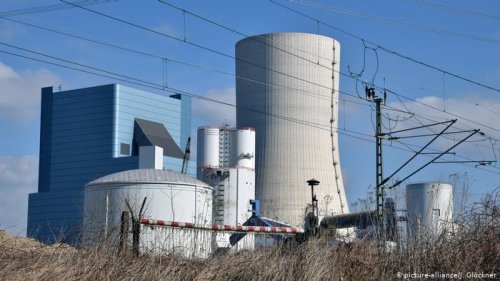 Climate Change News | 21 May 2020
Coal generator uses investment treaty to fight Netherlands coal phaseout
By Megan Darby
Uniper is threatening to sue the Dutch government over a plan to phase out coal power by 2030, in a case experts warn could have a chilling effect on climate ambition internationally.
A law passed in December will force the German energy company to close Maasvlakte 3 coal plant, near Rotterdam, less than 15 years after it opened, or convert it to run on a different fuel. It forms part of a strategy to cut the Netherlands' greenhouse gas emissions 49% from 1990 levels by 2030.
The company is seeking a reported €1 billion in compensation under the Energy Charter Treaty (ECT), a pact signed in the 1990s to boost investment flows between western and post-Soviet countries. Uniper wrote to the government on 18 December, seeking an "amicable settlement" and could go to arbitration if no agreement is reached.
Asked about the case at Uniper's AGM, held virtually on Wednesday, chief executive Andreas Schierenbeck said: "We reserve legal possibilities to secure shareholders' interests. We believe that the [Netherlands] coal phaseout in its current form is not appropriate." He declined to comment on the level of compensation sought.
It is the clearest example to date of a prospect that has long exercised legal academics: investor protections being used to resist climate action, or make it more expensive.
Deals like the ECT have arbitration systems to deter governments from seizing private assets on a whim. Uniper contends the change in Dutch policy, by halving the value of its coal plant, amounts to expropriation.
If Uniper won damages, it would set a dangerous precedent, said Bart-Jaap Verbeek, researcher at the Centre for Research on Multinational Corporations (Somo) in the Netherlands.
"The ECT offers foreign investors far-reaching protection [and] there are also vast amounts still invested in fossil fuels," he told Climate Home News.
"We are facing a climate crisis and we have to get rid of all these investments… You end up with a huge amount of money that has to be compensated and given to foreign investors. That is where the danger is – particularly in developing countries that have less money available for these kind of lawsuits."
Even if not pursued, the prospect of legal action can pressure governments into watering down climate policy. For example, the French government softened a proposed law to end all fossil fuel exploration on French territory by 2040, after oil company Vermilion threatened to sue.
Uniper started making noise about a potential damages suit in September, as the coal phaseout law was going through parliament. While it did not prevent the law passing, a handful of far right lawmakers took up their talking points.
Maasvlakte 3 is one of three brand new coal plants in the Netherlands stranded by changing climate and energy policy.
A spokesperson for Uniper told Forbes in December the company was encouraged by a previous administration to build the plant, to reduce the Netherlands' reliance on gas. The plant was expected to have a lifespan of 40 years.
Then came rapid changes in the electricity market and political landscape. Renewable energy took off faster than anticipated, undercutting conventional generators. Campaign group Urgenda won a court case against the government in 2015 – upheld by the Supreme Court in December 2019 – to force deeper emissions cuts.
By the time they were finishing building work in 2015-16, the coal plant owners had already written down the value of their assets by billions of euros.
Paul de Clerck, economic justice campaigner at Friends of the Earth (FoE), argues the companies should take the hit. "When they took that decision to build the power plant, they knew it was a risky business to continue to bet on coal," he told Climate Home News.
Uniper declined to comment for this story.
The Dutch government in the first instance has rejected Uniper's claim on procedural grounds. The ECT cannot be used to settle disputes within the EU, it said, citing a declaration signed by 22 EU member states including Germany, where Uniper is headquartered.
Regarding the substance of the complaint by coal generators, economy and climate minister Eric Weibes has stated the ten-year transition period was compensation enough. Separately, the government agreed to €52.5 million compensation for another plant forced to close at shorter notice.
Experts writing in the European Journal of International Law blog said Uniper's arguments "have some legal merit", however. Arbitration tribunals have taken widely different approaches to such claims in the past, they said, making the outcome of a potential proceeding hard to predict.
As of June 2018, anti-lobbying campaign group Corporate Europe Observatory found governments had paid out at least $51.2 billion under the ECT's investor-state dispute settlement (ISDS), with a further $35 billion of outstanding claims. A total of 114 corporate claims were listed by the ECT secretariat, making it the most heavily used ISDS of any investment pact. As there is no obligation to disclose the existence of such cases, the true figure could be higher.
"ISDS in general is a threat to climate policy but the ECT is probably even worse than other treaties," said Amandine Van Den Berghe, trade and environment lawyer at Client Earth. "It is so vaguely worded it can be interpreted in any way you want. It has been shown to be very resistant to any regulatory change."
The 55 member states of the ECT are beginning to negotiate an update, with talks scheduled for July.
In a written submission, the European Commission has proposed to strengthen governments' "right to regulate" in line with the Paris Agreement on climate change. Signatories to the treaty should "promote and enhance the mutual supportiveness of investment and climate policies and measures," under draft text put forward.
Campaigners say the proposed reforms do not go far enough – and are likely to be resisted by countries economically dependent on oil exports.
"Even if a 'right to regulate' is introduced to the treaty, it still doesn't take away the threat of companies to claim compensation," said FoE's De Clerck. "After the coronavirus crisis, governments are short on money. Who wants to take the risk of being sued for billions of dollars?"
The treaty should be scrapped or overhauled to solely protect renewable energy investments, De Clerck argued.
Exiting the treaty is an option – exercised by Italy and Russia after being slapped with big fines – but a "sunset clause" means governments are bound by its provisions for 20 years after leaving.
The Uniper case also raises awkward questions for the Finnish government. State-owned company Fortum acquired a majority stake in Uniper last year and overhauled the management board. Its share holding falls just short of the 75% threshold that would allow Fortum to pass special resolutions.
At an international level, Finland – along with the Netherlands and Germany – is a member of the Powering Past Coal Alliance, signalling its commitment to phasing out coal power.
The government last month updated its guidance to state-owned companies, with an emphasis on supporting the most ambitious goal in the Paris Agreement to limit global heating to 1.5C.
"The state expects its companies – according to their specific circumstances – to aim to lead the way in the use of digitalisation and in the transition towards a carbon-neutral circular economy," said the minister responsible, Tytti Tuppurainen, in a statement.
At the same time, under corporate law Fortum could be liable if it does not seek to minimise its losses from the stranded Maasvlakte 3 coal plant. Fortum has endorsed the lawsuit against the Dutch government.
"It is very uncomfortable for Finland," said Europe Beyond Coal coal finance expert Kaarina Kolle. "There is a strong and unequivocal mandate that binds all Finnish state-owned companies to align themselves with the 1.5C target, which entails implicitly a rapid coal phase-out by 2030, going beyond the current phase-out pledges. But the question is: how is that mandate put into practice?"
A Finnish official acknowledged the issues but said they were "not for Finnish government to address". Fortum is an independent listed company, albeit one the government owns a 50.8% stake in.
"As an industry leader, Fortum is expected to obey the law, act responsibly and uphold an ethical business conduct wherever they operate," said Maija Strandberg, senior financial counsellor in the Finnish prime minister's office. "Finnish government, as one of the shareholders, follows Fortum's strategy execution closely."