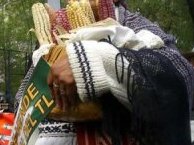 Le mécanisme de règlement des différends investisseur-Etat (ISDS en anglais) est inclus dans la plupart des accords de commerce et d'investissement. Il accorde aux investisseurs étrangers le droit de contester les lois et les régulations nationales concernant l'agriculture et l'alimentation.
Fin juin 2019, environ 4% du total des arbitrages effectués au CIRDI concernait le domaine de l'agriculture, la pêche et la foresterie.
Parmi les cas les plus célèbres :
• Corn Products International (US) c. Mexique : en 2009, CPI, producteur de sirop de maïs riche en fructose, un édulcorant lié à l'obésité, a obtenu 58,4 millions de dollars américains. L'investisseur contestait au Mexique une taxe sur ce sirop (ALENA invoqué).
• Cargill (US) c. Mexique : en 2009, un tribunal arbitral a ordonné au Mexique de payer 90,7 millions de dollars américains à l'investisseur, un géant de agro-alimentaire, des suites d'un conflit sur la même taxe sur le sirop de maïs riche en fructose mentionné ci-dessus (ALENA invoqué).
• Micula (Suède) vs. Roumanie : la multinationale suédoise d'agro-alimentaire a obtenu 250 millions de dollars américains en 2013, suite à l'annulation de primes versées par le gouvernement roumain afin qu'il se conforme à la législation européenne (TBI Roumanie-Suède invoqué).
Photo : Indymedia Mexico
(mars 2020)
Kluwer Arbitration Blog | 15-mai-2020
The dispute for snow crabs in Svalbard may set the stage for another dispute concerning the abundant hydrocarbon reserves located in the same waters.
Global Legal Chronicle | 20-avr-2020
The tribunal granted Turkmenistan's application for security for costs, ordering the claimant to post US$3 million in security as a condition to the continuation of the arbitration.
The Drinks Business | 11-mar-2020
Romania has won the second lawsuit filed against it by brothers Ioan and Viorel Micula, who accused Romania of allowing the development of a black market for the sale of alcohol.
The Independent | 3-mar-2020
The government has not ruled out imports of US agricultural products made to lower standards than in the UK.