litiges investisseurs-état
litiges investisseurs-état
Le mécanisme de règlement des différends entre investisseurs et États (RDIE) désigne une modalité d'arbitrage des conflits émergeant dans le cadre d'accords d'investissement internationaux selon laquelle les entreprises de l'une des parties sont autorisées à poursuivre en justice le gouvernement de l'autre partie. Ceci signifie qu'elles peuvent porter plainte et réclamer des dommages et intérêts. De nombreux traités d'investissement bilatéraux et chapitres sur l'investissement d'ALE incluent des dispositions autorisant ce mécanisme si les bénéfices escomptés par l'investisseur ont été négativement affectés par une mesure prise par le pays hôte, telle que le changement d'une politique publique. Le différend est généralement arbitré non pas par un tribunal public, mais par une cour privée. Ces affaires sont généralement traitées par le Centre international pour le règlement des différends relatifs aux investissements (Banque mondiale), la Chambre de commerce internationale, la Commission des Nations Unies sur le droit commercial ou la Cour internationale de justice.
Le RDIE est un sujet qui suscite à l'heure actuelle un vif intérêt car il cristallise une forte opposition de la part de citoyens préoccupés par les négociations du TTIP entre l'UE et les États-Unis, les discussions sur l'Accord de partenariat transpacifique et l'Accord économique et commercial global entre le Canada et l'UE.
AFTINET | 11-aoû-2021
Pakistan decided to review the entire BIT situation in 2013, and to develop a new model BIT.
TNI | 11-aoû-2021
To end neoliberalism and defend energy resources, Mexico must step up and avoid at all costs the inclusion of supranational arbitration mechanisms in a renegotiated FTA with the European Union.
South Centre | 11-aoû-2021
This policy brief highlights the need to allocate sufficient time to deliberate upon the important issues being raised by developing countries.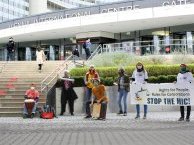 Third World Network | 10-aoû-2021
The broad mandate given by UNCITRAL focuses on a limited set of procedural issues that fails to address the substantive concerns over the crisis of legitimacy confronting the international investment regime, and ISDS more specifically.
CIAR Global | 9-aoû-2021
El British Institute of International and Comparative Law (BIICL) ha publicado un estudio que examina más de 150 decisiones de anulación dictadas por los comités ad hoc del Centro Internacional de Arreglo de Diferencias relativas a Inversiones (CIADI) y analiza cómo su sistema, que registra solicitudes de anulación en casi la mitad de los procedimientos tramitados, trata este recurso.
Ok Diario | 9-aoû-2021
Con denuncias activas todavía por valor de unos 5.000 millones de euros, ahora la irlandesa Spanish Solar se une a la larga lista de denunciantes y ha presentado una nueva demanda de arbitraje a España ante el Ciadi.
Media Congo | 9-aoû-2021
New evidence from a UN report and a high-profile investor arbitration case is casting a spotlight on Rwanda's role in sophisticated smuggling networks that extract gold and coltan from Congolese conflict zones and funnel the strategically important minerals illicitly into global supply chains.
Market Research Telecast | 9-aoû-2021
Spanish Solar demands compensation from the Spanish Government for having cut the premiums for the use of energy once the investments have been made.
The Maritime Executive | 9-aoû-2021
A lawsuit filed against the Mexican government for denying a permit for seabed mining has put a spotlight on the lack of international rules for such practices.
East Asia Forum | 9-aoû-2021
Human rights experts are particularly concerned about the asymmetric nature of the system and a lack of investors' human rights obligations. Together with high ISDS costs and arbitral awards, they undermine states' ability to realise economic, social, cultural and environmental rights.
| ... | | | | | 60 | | | | | ... |