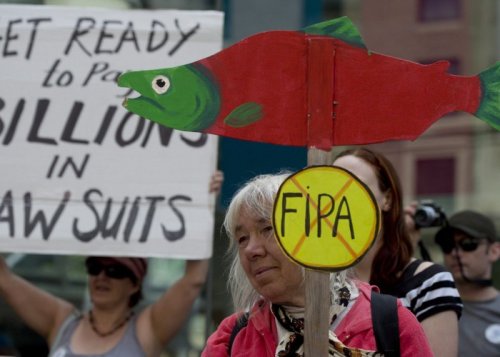 Newsweek | 15 Sep 2014
New treaty allows China to sue Canada to change its laws
By Lauren Walker
Despite public outcry, Stephen Harper, Canada's prime minister, ratified a controversial treaty on Friday that will allow China to sue Canada in secret tribunals to repeal Canadian laws that interfere with Chinese investments.
Analysts interpret the move as an attempt to ease strained relations between the two nations. This summer, Canada accused China of hacking government computers, and China detained a Canadian couple for "spying." Wenran Jiang, a senior fellow at the Asia Pacific Foundation of Canada and a special adviser to the Alberta government told the Globe and Mail, "We need something from China prior to the prime minister's visit, and we're ratifying this treaty and we're kicking the ball over to the Chinese side to get something in return." That "something" is thought to be the release of the couple before Harper visits China in November.
The Canada-China Foreign Investment Promotion and Protection Agreement (FIPA) was quietly signed two years ago in Vladisvostok, Russia, but public protest delayed ratification up until now.
The treaty goes into effect on October 1 and will last for 31 years, until 2045. It allows China to challenge Canadian laws it deems harmful to Chinese assets, and only requires the lawsuit be made public once an award is issued by a tribunal. Treaty law expert Gus Van Harten warns this could be problematic. "This means that the federal government could settle the lawsuit, including by varying its conduct in a way that many Canadians would oppose, or by paying out public money before an award is issued, and we would never know," he told the Vancouver Observer. The treaty makes no limits on the damages that can be awarded.
The treaty also overrides treaty obligations Canada has with its First Nations regarding resources and commercial management. Paired with the terms allowing Chinese entities to buy anything they wish without foreign investment review, China will have access to and potentially be able to gain control of Canadian resources—including resources on First Nations' lands, which Canada does not own.
The deal is almost impossible to undo. Even if Canadian courts decide the treaty is unconstitutional, China would have to agree to abandon the treaty, and analysts say this is unlikely since it is so heavily in China's favor. Chinese investment in Canada is much larger than Canada's investment in China. Chinese companies have invested more than $30 billion in Canada's energy industry alone, while Canadian investment in all Chinese sectors totaled $4.2 billion in 2012.
Some critics point out that the terms are not reciprocal. Van Harten said, "It gives a general right to market access by Chinese investors to the Canadian economy, but not vice versa." He also noted that Canada's government is more open than China's. "China could point to any rule that allows any level of government in China to block a Canadian investment," he said.
Canadian supporters of the treaty, including Ed Fast, the minister of International Trade, argue the deal is beneficial to Canadians. Fast said, "Investment agreements provide the protection and confidence Canadian investors need to expand, grow and succeed abroad. We remain committed to opening new markets around the world for Canadian companies, including in the fast-growing Asia-Pacific region. This FIPA will create jobs and economic opportunities for Canadians in every region of [China]."
Sarah Kutulakos, president of the Canada-China Business Council, said it was time Canada reward China for its heavy investments. "China has been in a position where it's saying: 'Hey, Canada, we've been really putting forward our best efforts to do business with you, and you don't seem very interested.' The question is how long will China keep trying," she said.
Canadian groups are circulating petitions online to oppose the treaty.