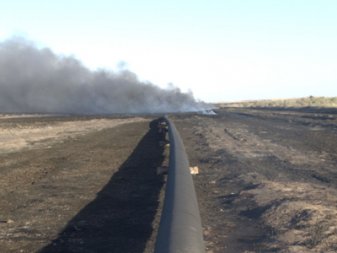 Haaretz | 19 February 2018
Arbitrator: EMG due $1.03b from Egypt over canceled gas contract
by Eran Azran
A lengthy dispute over compensation after Egyptian gas companies cut off the supply of natural gas to Israel six years ago is moving forward in Israel's favor, thanks to a ruling that the Egyptians had violated their country's trade treaty with Poland.
The Cairo Regional Centre for International Commercial Arbitration ruled that East Mediterranean Gas, the company that operated the pipeline that had been delivering the gas to Israel, should be awarded $1.033 billion plus interest.
If the award is paid out, that could enable the bondholders of Ampal-American – an Israeli holding company controlled by Yossi Maiman that owned 12.5% of EMG – to collect on the 800 million shekels ($225.8 million at current exchange rates) still owned them after Ampal went bankrupt after EMG's supply of gas was ended.
The decision by the Cairo-based arbitrator came after the United Nations Commission on International Trade Law, or UNCITRAL, ruled that the Egyptian Natural Gas and Egyptian General Petroleum Corporation had violated the terms of the Egyptian-Polish trade treaty's clauses protecting investors.
The reason is that the Polish-born Maiman presented himself to the court as a Polish citizen entitled to protections under the treaty, a claim the court accepted.
"The next step after the establishment of the CFRCICA in Cairo will be a similar ruling on compensation by other arbitration institutions, which have previously ruled in favor of EMG," said Alex Spizz, a lawyer at the New York firm Tarter Krinsky & Drogin, which is handling the Ampal bankruptcy.
These include UNCITRAL and the Washington-based International Center for Settlement of Investment Disputes.
EMG was formed in 2000 to build a pipeline across the Sinai Peninsula and buy the Egyptian gas for resale to Israel under a 20-year contract. But amid the gyrations of the Arab led to the collapse of President Hosni Mubarak's rule in Egypt, the pipeline came under sustained attack by terrorists, stanching the flow of gas.
Finally in 2012, the two Egyptian companies abruptly canceled the contract altogether, citing violations of the agreement by Israel.
Spizz said the Egyptian companies may seek a further hearing on the size of the compensation to be awarded.
The Paris-based International Chamber of Commerce arbitrator awarded EMG $324 million in compensation in 2015 that has never been paid even though a Swiss Court rejected an appeal to have the judgment canceled.