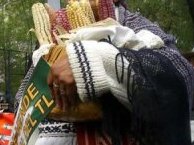 El mecanismo de arbitraje de disputas entre inversionistas y Estados ISDS, está incluido en casi todos los acuerdos de comercio e inversión. Éste otorga a los inversionistas extranjeros el derecho a desafiar las leyes y regulaciones nacionales relacionadas con agricultura y alimentación, si estas regulaciones implican amenazas a sus ganancias.
Hacia finales de 2019, cerca de 4% de todos los casos del ISDS que fueron llevados al Centro Internacional de Arbitraje de Disputas de Inversión, en el Banco Mundial, tuvieron que ver con agricultura, pesca o forestería.
Los casos más conocidos incluyen:
• Corn Products International (EUA) vs. México: en 2009, se le concedieron 58.4 millones de dólares a CPI, un productor de jarabe de alta fructosa de maíz (HFCS por sus siglas en inglés) un edulcorante derivado del maíz y ligado a la obesidad. El inversionista desafió un impuesto gubernamental que se le puso en México a las bebidas endulzadas con HFCS (se invocó el TLCAN).
• Cargill (EUA) vs México: 90 millones de dólares le fueron otorgados al gigante procesador de alimentos en 2009 después de que logró desafiar el mencionado impuesto al impuesto mexicano al HFCS. (se invocó el TLCAN).
• Micula (Suecia) vs Rumania: se concedieron 250 millones de dólares a la compañía procesadora de alimentos sueca en 2013, tras la terminación de incentivos procedentes del gobierno rumano con el fin de cumplir con leyes de la Unión Europea (se invocó el TBI entre Rumania y Suecia)
Foto: Indymedia Mexico
(marzo de 2020)
FT Alphaville | 26-ago-2015
Joseph Stiglitz, the Nobel Prize-winning economist, discusses TPP.
La Via Campesina | 30-mar-2015
Le 17 avril 2015, La Via Campesina internationale concentrera sa mobilisation sur les impacts des entreprises transnationales et les traités de libre échange affectant l'agriculture paysanne et la souveraineté nationale.
La Via Campesina | 30-mar-2015
This April 17th 2015, La Via Campesina will focus its mobilizations on the impacts of Transnational Corporations and Free Trade Agreements on peasant and small-scale agriculture and national food sovereignty
ENDS Europe | 10-jul-2014
Asked about the trade deal the Commission is currently negotiating with the US, which campaigners fear will allow private companies to challenge the EU's environmental rules, Mr Juncker stressed that the normal, publicly accountable, court system should be used instead of private courts or arbitration panels.
Gene Ethics | 24-abr-2014
Australian PM Abbott's trade deals with Korea, Japan and 12 other Pacific rim countries may give foreign companies the right to sue our governments for claimed losses over GM-free zones. A Greens Bill now in the Senate seeks to stop corporate predators having this right in all future treaties.