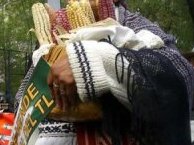 Le mécanisme de règlement des différends investisseur-Etat (ISDS en anglais) est inclus dans la plupart des accords de commerce et d'investissement. Il accorde aux investisseurs étrangers le droit de contester les lois et les régulations nationales concernant l'agriculture et l'alimentation.
Fin juin 2019, environ 4% du total des arbitrages effectués au CIRDI concernait le domaine de l'agriculture, la pêche et la foresterie.
Parmi les cas les plus célèbres :
• Corn Products International (US) c. Mexique : en 2009, CPI, producteur de sirop de maïs riche en fructose, un édulcorant lié à l'obésité, a obtenu 58,4 millions de dollars américains. L'investisseur contestait au Mexique une taxe sur ce sirop (ALENA invoqué).
• Cargill (US) c. Mexique : en 2009, un tribunal arbitral a ordonné au Mexique de payer 90,7 millions de dollars américains à l'investisseur, un géant de agro-alimentaire, des suites d'un conflit sur la même taxe sur le sirop de maïs riche en fructose mentionné ci-dessus (ALENA invoqué).
• Micula (Suède) vs. Roumanie : la multinationale suédoise d'agro-alimentaire a obtenu 250 millions de dollars américains en 2013, suite à l'annulation de primes versées par le gouvernement roumain afin qu'il se conforme à la législation européenne (TBI Roumanie-Suède invoqué).
Photo : Indymedia Mexico
(mars 2020)
Romania Insider | 20-jui-2019
The European Court of Justice on June 18 canceled a European Commission decision dating 2015, which established that Romania's payment of compensation to Romanian-Swedish investors Ioan and Viorel Micula constituted illegal state aid. The European Commission also ordered the Romanian Government to recover the money already paid to the investors following an international court's decision.
The Conversation | 6-mar-2019
Indonesia – Australia CEPA signed without prior released text to assess its costs and benefits.
Sierra Club | 23-fév-2018
The proposed policy follows the escape of over 200,000 Atlantic salmon from the company's fish farms, sparking outcry from Indigenous groups, environmentalists, and fishing communities.
Cooke Aquaculture | 23-fév-2018
Will seek NAFTA arbitration if ban on Atlantic salmon farming is approved.
Parti Sosialis Malaysia | 30-jan-2018
It is now time we open up the dialogue on the kind of trade agreements that we want to see in place.