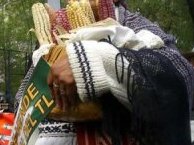 El mecanismo de arbitraje de disputas entre inversionistas y Estados ISDS, está incluido en casi todos los acuerdos de comercio e inversión. Éste otorga a los inversionistas extranjeros el derecho a desafiar las leyes y regulaciones nacionales relacionadas con agricultura y alimentación, si estas regulaciones implican amenazas a sus ganancias.
Hacia finales de 2019, cerca de 4% de todos los casos del ISDS que fueron llevados al Centro Internacional de Arbitraje de Disputas de Inversión, en el Banco Mundial, tuvieron que ver con agricultura, pesca o forestería.
Los casos más conocidos incluyen:
• Corn Products International (EUA) vs. México: en 2009, se le concedieron 58.4 millones de dólares a CPI, un productor de jarabe de alta fructosa de maíz (HFCS por sus siglas en inglés) un edulcorante derivado del maíz y ligado a la obesidad. El inversionista desafió un impuesto gubernamental que se le puso en México a las bebidas endulzadas con HFCS (se invocó el TLCAN).
• Cargill (EUA) vs México: 90 millones de dólares le fueron otorgados al gigante procesador de alimentos en 2009 después de que logró desafiar el mencionado impuesto al impuesto mexicano al HFCS. (se invocó el TLCAN).
• Micula (Suecia) vs Rumania: se concedieron 250 millones de dólares a la compañía procesadora de alimentos sueca en 2013, tras la terminación de incentivos procedentes del gobierno rumano con el fin de cumplir con leyes de la Unión Europea (se invocó el TBI entre Rumania y Suecia)
Foto: Indymedia Mexico
(marzo de 2020)
Romania Insider | 20-jun-2019
The European Court of Justice on June 18 canceled a European Commission decision dating 2015, which established that Romania's payment of compensation to Romanian-Swedish investors Ioan and Viorel Micula constituted illegal state aid. The European Commission also ordered the Romanian Government to recover the money already paid to the investors following an international court's decision.
The Conversation | 6-mar-2019
Indonesia – Australia CEPA signed without prior released text to assess its costs and benefits.
Sierra Club | 23-feb-2018
The proposed policy follows the escape of over 200,000 Atlantic salmon from the company's fish farms, sparking outcry from Indigenous groups, environmentalists, and fishing communities.
Cooke Aquaculture | 23-feb-2018
Will seek NAFTA arbitration if ban on Atlantic salmon farming is approved.
Parti Sosialis Malaysia | 30-ene-2018
It is now time we open up the dialogue on the kind of trade agreements that we want to see in place.