litiges investisseurs-état | ISDS
litiges investisseurs-état | ISDS
Le mécanisme de règlement des différends entre investisseurs et États (RDIE ou ISDS, selon son sigle anglais) désigne une modalité d'arbitrage des conflits émergeant dans le cadre d'accords d'investissement internationaux selon laquelle les entreprises de l'une des parties sont autorisées à poursuivre en justice le gouvernement de l'autre partie. Ceci signifie qu'elles peuvent porter plainte et réclamer des dommages et intérêts. De nombreux traités d'investissement bilatéraux et chapitres sur l'investissement d'ALE incluent des dispositions autorisant ce mécanisme si les bénéfices escomptés par l'investisseur ont été négativement affectés par une mesure prise par le pays hôte, telle que le changement d'une politique publique. Le différend est généralement arbitré non pas par un tribunal public, mais par une cour privée. Ces affaires sont généralement traitées par le Centre international pour le règlement des différends relatifs aux investissements (Banque mondiale), la Chambre de commerce internationale, la Commission des Nations Unies sur le droit commercial ou la Cour internationale de justice.
Le RDIE est un sujet qui suscite à l'heure actuelle un vif intérêt car il cristallise une forte opposition de la part de citoyens préoccupés par les négociations du TTIP entre l'UE et les États-Unis, les discussions sur l'Accord de partenariat transpacifique et l'Accord économique et commercial global entre le Canada et l'UE.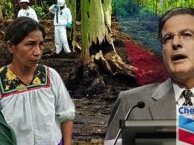 Financial Times | 24-sep-2009
Chevron, the world's third biggest oil company, said it had filed an international arbitration claim against the government of Ecuador, citing violations of the country's obligations under the US-Ecuador bilateral investment treaty, investment agreements and international law.
| 7-sep-2009
An arbitral tribunal appointed by the International Centre for Settlement of Investment Disputes (lCSID) of the World Bank hearing a claim brought by a Turkish investor against the Islamic Republic of Pakistan has rejected all claims for breach of a bilateral investment treaty between the two countries.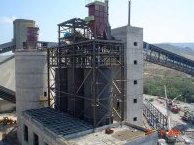 IISD | 3-sep-2009
The recent decision in Pantechniki v. Albania appears to be the only award in the public domain in which a tribunal has held a fork-in-the-road clause to have been triggered by an investor's prior court proceedings.
World-Grain.com | 21-aoû-2009
US-based Corn Products International has been awarded damages of over $58m in a dispute with Mexico over violations of the North America Free Trade Agreement.
ICTSD | 6-aoû-2009
Exiting ICSID and joining ALBA and UNASUR,along with the customs restrictions it applied on its CAN neighbours, are the recent measures that have been taken by the government of Ecuador to demonstrate that there is an alternative trade policy.
ICTSD | 5-aoû-2009
La salida del CIADI, la incorporación a la ALBA y a la UNASUR, así como las restricciones arancelarias impuestas a sus vecinos de la CAN, son medidas tomadas recientemente por el gobierno ecuatoriano que muestran una política comercial alternativa.
Clayton Utz | 30-jui-2009
Some managed investment funds may not be able to seek protection under bilateral investment treaties when investing abroad, according to a recent award rendered in an investment treaty arbitration between a various Spanish investment funds and the Russian Federation (Renta 4 S.V.S.A v Russian Federation).
Law.com | 25-jui-2009
It's time for the US Department of State to pressure Argentina to comply with its treaty obligations, some lawyers suggest.
OMAL | 23-jui-2009
Las empresas representadas bajo el nombre de Pacific Rim Cayman LLC, en el marco del Tratado de Libre Comercio entre Estados Unidos, Centroamérica y Republica Dominicana (CAFTA - DR por sus siglas en inglés) demandan al Estado por una cantidad inicial de US$77 millones de dólares, en concepto de indemnización por daños a la inversión realizada en nuestro suelo.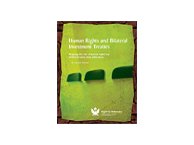 Rights & Democracy | 22-jui-2009
Investment treaties and free trade agreements offer few instructions as to how such agreements should be reconciled with human rights obligations of the state.
| ... | | | | | 4620 | | | | | ... |