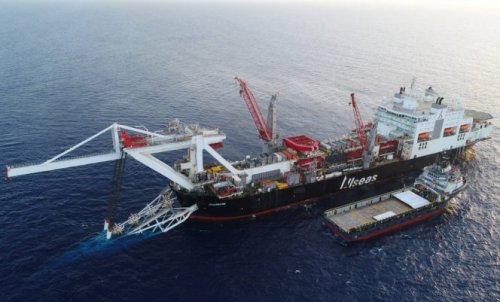 S&P Global | 24 April 2019
Nord Stream 2 invokes Energy Charter Treaty to challenge EU gas link rules
by Siobhan Hall
Brussels — EU plans to extend its internal energy market rules to Russia's Nord Stream 2 natural gas link to Germany could breach the Energy Charter Treaty, which protects international investors, according to the Swiss-registered company building it.
The company has asked the European Commission to confirm that its 55 Bcm/year Nord Stream 2 will be treated as a "completed" pipeline under the EU's amended gas directive.
This means it would be eligible for a full waiver from EU internal market rules on its EU section, including regulated tariffs, for up to 20 years, or more if renewed.
The project company has already laid more than 1,080 km of Nord Stream 2 - about 44% of the total - in the Baltic Sea, its owner Gazprom said Wednesday.
However, the amended gas directive only allows full waivers to offshore pipelines "completed" before it enters into force, which is expected to be around June.
Nord Stream 2 will not be completed by then, but investment has already been fully committed, according to the project company.
"Nord Stream 2 is seeking [to be] treated equally to other comparable import offshore pipelines" where the investments were made before the EU gas directive was amended, the project company's special adviser, Sebastian Sass, told S&P Global Platts late Tuesday.
The EC is keen to bring Nord Stream 2 under EU market rules so that it will have to reveal information about its costs, among other things.
This will help Ukraine to offer more competitive tariffs for its rival transit route.
Russia's transit contract with Ukraine expires at the end of this year, and the EC is pushing both sides to sign a new, long-term contract to keep the Ukrainian route open and viable.
Russia has said it would probably send less than 20 Bcm/year through Ukraine once Nord Stream 2 and its 31.5 Bcm/year Turk Stream routes to Europe become available.
Both are scheduled to be online by the end of this year, but the entry into service of Nord Stream 2 may be delayed as it is waiting for a permit from Denmark to build the section in that country.
PROTECTING INVESTMENT
Nord Stream 2 warrants a full waiver from new regulation under the amended EU gas directive to protect the Eur5.8 billion ($6.5 billion) already invested in it, the project company said in an April 12 letter to the EC published by Politico Tuesday.
Nord Stream 2 is expected to cost Eur9.5 billion, with Gazprom committed to paying half, and the rest split between five European energy companies: Engie, OMV, Shell, Uniper and Wintershall.
Russia's 55 Bcm/year Nord Stream 1 pipeline to Germany, online since 2011, as well as existing links to North Africa, will be eligible for full waivers.
Treating the Nord Stream 2 investment differently would potentially break ECT rules on non-discrimination, the project company said.
It said the letter served as a "notice of dispute" to the EU under ECT rules, and asked the EC to respond by May 13.
Under ECT rules, if the two parties in dispute cannot reach an amicable settlement within three months, the Nord Stream 2 project company can go to the courts or international arbitration.
The EC confirmed Wednesday it had received the letter and would respond "in due course." It declined to comment on the content.