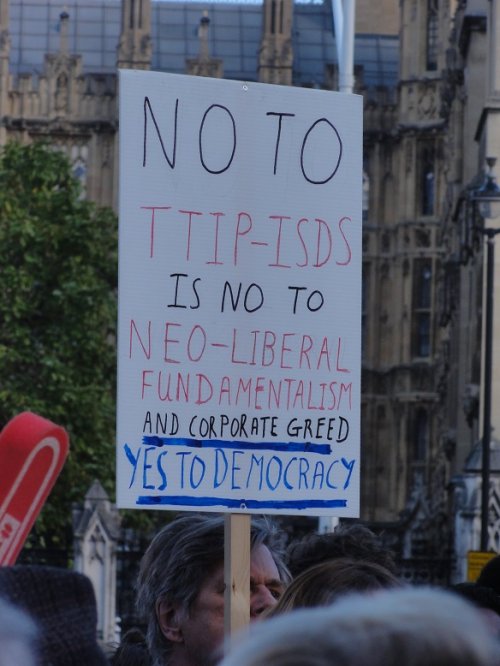 Stop TTIP and TTIP Unfairhandelbar (press release) | 13 January 2015
Europeans don't want investor state dispute settlement in trade agreements
The European Commission today released the results of a public consultation on the investor state dispute settlement (ISDS) in the Transatlantic Trade and Investment Partnership (TTIP). Between 27 March and 13 July 2014, the Commission had invited citizens to comment on various aspects of ISDS and received a record number of nearly 150,000 responses. It emerged today that 97 per cent of responses oppose ISDS.
ISDS would give foreign investors the right to sue states in private arbitration courts for any actions that could damage their profit expectations. Investors have used similar agreements to sue states and demand millions, even billions of Euros in compensation. One example is the lawsuit of Swedish energy company Vattenfall against Germany for introducing environmental requirements for a coal fired power stations. Another example is Canadian gas and oil company Lone Pine suing against a fracking moratorium in the state of Quebec.
"Such cases show that ISDS can be used to undermine environmental standards, to prevent regulation or to pocket taxpayers' money. It's bad enough that some investment agreements already include ISDS. It should certainly not be included in any future trade and investment deals." demanded Karl Bär, a spokesperson of the Stop TTIP alliance.
The consultation was not the only opportunity for citizens to voice their opposition against ISDS. A self-organised European Citizens' Initiative run by the Stop TTIP alliance, consisting of 340 organisations from all over Europe has already collected more than 1,260,000 signatures in the past three months to stop TTIP and CETA.
Karl Bär added: "The results of the consultation are clear. ISDS is dangerous for democracy, our environment, consumer protection and other important standards. An overwhelming majority of Europeans has spoken out against ISDS. The Commission must take their own consultation results seriously and immediately stop negotiations on TTIP. The Comprehensive Economic and Trade Agreement with Canada should not be ratified, as it also contains this kind of investor protection."
"The Commission asked extremely complicated and technical questions that were very hard to understand for ordinary citizens. Our online platform explained what the questions meant, provided background information and suggested formulations that people could use in their answers, thus making the whole process accessible. Now the Commission doesn't like the answers and claims they are illegitimate, making a complete mockery of this consultation. The fact that so many people bothered to take action goes to show how many citizens are concerned about ISDS and its consequences."
Contact:
Stop TTIP media team, press@stop-ttip.org, Tel.: +49 30/420 823 79, Mobil: +49 178/816 3017
Additional contacts:
Karl Bär, Munich Environment Institute, kb@umweltinstitut.org, +49 176/100 94 126
Ernst-Christoph Stolper, Friends of the Earth Germany (BUND), ec.stolper@t-online.de, +49 172/290 3751
Maritta Strasser, campact, strasser@campact.de, +49 170/7310897
Roland Süß, attac, suess@attac.de , +49 175/2725 893
Sascha Roth, NABU, Sascha.Roth@NABU.de, +49 30/2849841660