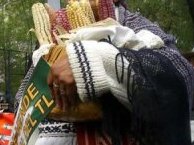 The investor-state dispute settlement (ISDS) mechanism included in most trade and investment agreements gives foreign investors the right to challenge national laws and regulations related to agriculture and food, would these regulations represent an obstacle to their profits.
About 4% of all ICSID cases concerned agriculture, fishing and forestry issues as of end of 2019.
Most well-known cases include:
• Corn Products International (US) vs. Mexico: in 2009 US$58.4 million were awarded to the agribusiness producer of high fructose corn syrup (HFCS) – a derived sweetener linked to obesity. The investor challenged a government tax levied on beverages sweetened with HFCS (NAFTA invoked).
• Cargill (US) vs. Mexico: US$90.7 million awarded to the food-processing giant in 2009. The investor successfully challenged the abovementioned Mexican tax on HFCS (NAFTA invoked).
• Micula (Sweden) vs. Romania: US$250 million awarded to the multiple food-processing company in 2013, following the termination of incentives from the Romanian government in order to comply with EU law (Romania-Sweden BIT invoked).
Photo: Indymedia Mexico
(March 2020)
Romania Insider | 16-Dec-2019
The Government took this decision to unlock the accounts of Romania's air control company Romatsa, frozen by the Miculas.
The Hindu Business Line | 22-Oct-2019
Indian negotiators are in Bangkok trying to insert crucial provisions in the proposed Regional Comprehensive Economic Partnership (RCEP) pact.
People Dispatch | 21-Oct-2019
Negotiators representing 16 countries have been tasked with arriving at an agreement on the controversial Regional Comprehensive Economic Partnership by October 19 but trade unions say the deal has grave consequences.
Romania Insider | 20-Jun-2019
The European Court of Justice on June 18 canceled a European Commission decision dating 2015, which established that Romania's payment of compensation to Romanian-Swedish investors Ioan and Viorel Micula constituted illegal state aid. The European Commission also ordered the Romanian Government to recover the money already paid to the investors following an international court's decision.
The Conversation | 6-Mar-2019
Indonesia – Australia CEPA signed without prior released text to assess its costs and benefits.