All the versions of this article: [English] [français]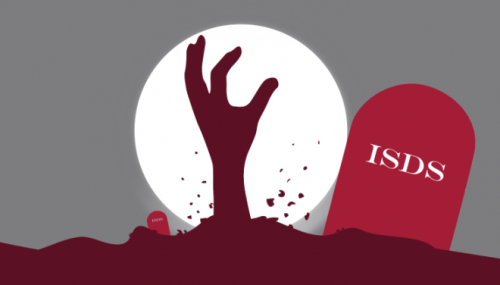 EurActiv | 20 April 2016
TTIP investment court 'incompatible with human rights'
By Cécile Barbière
The EU's new investment court is no more consistent with fundamental rights than the previous investor-state dispute settlement system, according to a UN human rights expert. EurActiv France reports.
The private or semi-private settlement of disputes between investors and states is incompatible with democracy, the rule of law and human rights, Alfred de Zayas said.
In a hearing with the Council of Europe's legal affairs and human rights committee on Tuesday (19 April), the UN Human Rights Council's Independent Expert on the promotion of a democratic and equitable international order called for this type of mechanism to be excluded from all future trade agreements.
Time to abandon ISDS
"Existing investor-state dispute settlement (ISDS) mechanisms should be phased out and no new investment treaty should contain any provision for privatised or semi-privatised dispute settlement," he said.
Already a feature of many international trade agreements, ISDS exists to protect investors from arbitrary or illegal decisions by states, which may harm their future profits.
"It is wholly unnecessary in countries that are party to the International Covenant on Civil and Political Rights, which commits states to due process and the rule of law," he added.
Transatlantic trade deal
In the Transatlantic Trade and Investment Partnership (TTIP) currently being negotiated between the EU and the United States, the question of ISDS has become extremely contentious. In an attempt to address some of the popular concerns, the Commission proposed an entirely new system last September.
Instead of a dispute settlement mechanism, Brussels drew up plans for a semi-public arbitration court, something hitherto unseen in international trade deals.
But despite these improvements, critics fear the negative impact arbitration may have on the ability of states to pass health or environmental legislation. De Zayas insisted that ISDS is responsible for a "regulatory chill" in matters of social and environmental protection, with states fearing billion-dollar law suits if they try to enforce stricter regulation.
Private or public arbitration?
"Investor-state dispute settlement is unfortunately not dead, and the proposed TTIP investment court system (ICS) is but a zombie of ISDS, which suffers from many of the same fundamental flaws," de Zayas told the Council of Europe.
"It is states, particularly developing states, and their populations that need protection from predatory investors," he added.
"The time has come to abolish ISDS and ICS and to ensure that henceforth, trade works for human rights and not against them. The ideological apriorisms of market fundamentalists must give way to common sense and a commitment to respect and fulfil existing human rights treaty obligations, achieve the sustainable development goals and address the urgent challenges of climate change," de Zayas concluded.