Toutes les versions de cet article : [English] [français]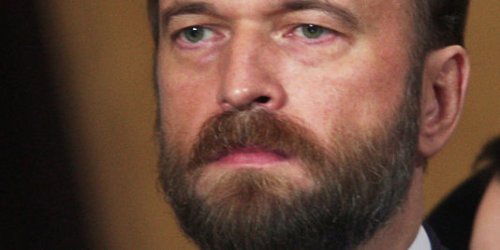 Reuters | 22 September 2015
'Putin's banker' Pugachev files $12 billion claim against Russia
By Guy Faulconbridge and Stephen Grey
Sergei Pugachev, a tycoon once dubbed "Putin's banker", said on Tuesday that he had filed a $12 billion compensation claim against Russia for carving up his business empire after he fell out of favor with the president.
Pugachev, who said his fortune was once worth $15 billion, told Reuters that President Vladimir Putin's allies had pursued him in courts across Europe with fictitious allegations of embezzlement, adding that he had feared for his life.
"They expropriated my assets," Pugachev, 52, told Reuters in an interview in Paris. Pugachev's lawyers said he had just $70 million left.
The tycoon described his own case as the "mirror image" of the destruction of Yukos, once Russia's biggest oil producer which was torn apart when its owner, Mikhail Khodorkovsky, fell out with Putin.
Pugachev hopes to have his case heard at the Permanent Court of Arbitration in The Hague, which ordered Russia last year to pay $50 billion to former Yukos shareholders for the expropriation of its main oil producing assets.
Saying he used to speak to Putin almost daily, Pugachev insisted he had tried repeatedly to resolve the dispute over his assets, including at a meeting with the president in Amsterdam two years ago.
Putin's spokesman Dmitry Peskov said he had "no comment" on the $12 billion claim but that official investigations were underway.
Russia is seeking Pugachev's arrest for embezzlement and misappropriation of assets, charges he denies. Peskov said the investigations had nothing to do with Pugachev's relationship with Putin. "Investigative or search actions, of course, aren't related to the extent to which there were friendly or unfriendly relations," he said.
"KREMLIN CASHIER"

A dollar millionaire even before the 1991 fall of the Soviet Union, Pugachev founded Mezhprombank, or International Industrial Bank, in 1992.
It grew to become one of Russia's biggest banks and Pugachev says he became so influential that he helped Putin to succeed President Boris Yeltsin, who handed over power on the last day of 1999.
Pugachev's empire had stakes in shipyards, including one which had built the Czar's battleships and later Soviet nuclear-powered icebreakers, plus a Siberian coal deposit and a large chunk of prime Moscow real estate.
He accused Putin's allies of using financial turmoil that followed the 2008 global crisis to rip away his assets, adding that Putin had failed to intervene on his behalf despite repeated requests.
Russian authorities say Pugachev, who represented Siberia's Tuva Republic in the upper house of parliament from 2001 to 2011, helped himself to over $700 million in Russian central bank bailout money intended to prop up Mezhprombank during the crisis.
A Russian court ruled in 2015 that he had knowingly bankrupted his own bank by ordering the release of stakes in his coal mining enterprise worth more than $400 million that had been pledged as collateral for loans.
Interpol has issued an arrest warrant for Pugachev at the request of Russia which wants him to face charges of embezzlement in a parallel criminal case. Pugachev denies all the Russian allegations.
KREMLIN CLAIM

After a London court ordered his worldwide assets to be frozen, Pugachev defied a British judge's additional order to stay in Britain and went to France this summer.
His lawyers said surveillance devices had been found attached to the underside of his car in Britain. "The reason Mr Pugachev left was that he was in real fear for his life," said Nick Cherryman, one of Pugachev's lawyers. "It is not very pleasant to find black boxes underneath your car."
Pugachev refused to say when and how he left Britain.
His lawyers said that as a dual French-Russian citizen since 2009, he was making the arbitration claim under a bilateral investment treaty between the two countries, designed to protect the rights of investors.
Pugachev said his lawyers had drawn up a plan to freeze Russian assets abroad if the Kremlin failed to reach a compromise over his claim.
"If we understand that Russia is not ready to soberly discuss the expropriation that took place, then the first thing you will see is the arrest of Russian property abroad," Pugachev said. "This can happen before a ruling : We are ready to do it tomorrow."