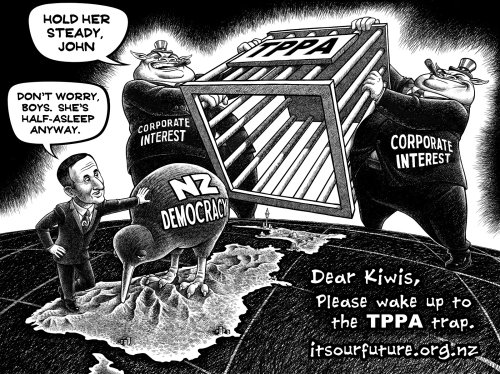 It's Our Future | 28 March 2015
Press release
NZ-Korea FTA Select Committee provides Kiwis chance to break silence on ISDS
The Foreign Affairs Defence and Trade committee is now accepting public submissions on the NZ-Korea Free Trade Agreement, providing Kiwis with a rare chance to break the silence on the controversial investor-state dispute settlement provisions in that agreement and in the Trans-Pacific Partnership Agreement (TPPA), according to It's Our Future NZ.
It's Our Future NZ has established a submission platform on their website that provides a wealth of information on these extraordinary provisions that allow foreign investors to sue governments for actions that affect their bottom line, according to spokesperson Edward Miller.
"The absolute secrecy of these negotiations has deprived New Zealanders of the right to participate in public affairs and left them relying on leaked texts to test government's assurances that the national interest is protected", said Edward Miller. "Yesterday's leaked investment chapter proved that New Zealander's can't rely on what the government says".
"Now the Korean deal has been signed the Select Committee will receive submissions, and we will encourage as many people as possible to voice their concerns about ISDS provisions in the TPPA and the NZ-Korea FTA", said Miller.
"New Zealanders are generally concerned at how these cases can undermine our right to make our own policies and laws, for example on tobacco or mining, or planning decisions by local governments. The OECD estimates that the average cost of defending an ISDS case is US$8 million, and the awards can cost billions of dollars."
"There is growing concern over these agreements, and that is why on 7 March 10,000 New Zealanders in 23 towns and cities around the country marched to express their opposition to the TPPA. Seven councils across the country have now adopted a 12 point TPPA Resolution (most recently Lower Hutt Council just this week) and many more have passed remits. New Zealanders have not been silent on this issue, and will use this Select Committee hearing to raise their voices again."