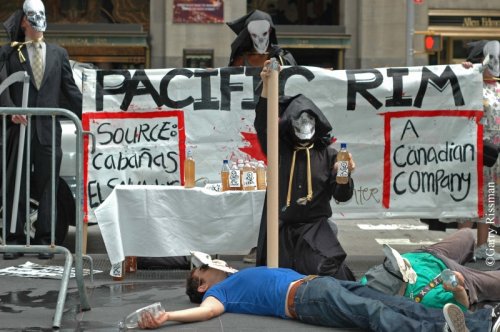 AFL-CIO Blog | Dec 14, 2011
Labor, environmental activists to protest World Bank's CAFTA tribunal
by Adele Stan
Pacific Rim Cayman LLC, the mining company determined to extract gold along the banks of El Salvador's Lempa River, is seeking to use the Central American Free Trade Agreement (CAFTA) to force the Salvadoran government to allow it to have its environmentally disastrous, gold-digging way. Since 2009, four activists opposed to Pacific Rim's mining plans have been killed.
Tomorrow, the AFL-CIO will join the Institute for Policy Studies (IPS) and activists from a range of labor and environmental groups to converge on the World Bank headquarters in Washington, D.C., for a noon protest in opposition to a CAFTA case being brought against the Salvadoran government by Pacific Rim. The AFL-CIO has long called for ending CAFTA, whose absence of labor protections leads to the abuse of Central American workers.
As part of the action, participants will attempt to deliver an open letter to World Bank officials, calling on the bank and presiding officials to dimiss Pacific Rim's CAFTA complaint, which seeks $77 million from the Salvadoran government for calling a halt to the company's potentially devastating gold mining operation.
In El Savador, even the execution-style deaths of four anti-mining activists—including a pregnant woman who had a two-year-old in her arms when she was shot—hasn't stopped the government from calling a halt to the Pacific Rim's plans to mine gold, a process that threatens cyanide leakage into the river, which is the main water source for a majority of the nation's population, according to authors Robin Broad and IPS Director John Cavanaugh, who published a comprehensive investigation last summer in The Nation.
In what environmental lawyer Marcos Orellana of the Center for International Environmental Law (CIEL) called "an abuse of process," Pacific Rim, which is based in Canada, opened a U.S. office to use CAFTA as a means to force El Salvador to approve the company's environmental impact study, which would allow the mining to proceed. (Canada is not party to CAFTA, but the United States is.) The case will be heard at a tribunal inside World Bank headquarters convened by International Centre for Settlement of Investment Disputes (ICSID). Broad and Cavanaugh report :
Like other trade agreements, CAFTA allows foreign investors to file claims against governments over actions—including health, safety and environmental measures and regulations—that reduce the value of their investment. The affected farmers and communities are not part of the calculus.
El Salvador's National Roundtable on Mining has filed an amicus brief, drafted with Orellana's assistance, explaining how, according to Broad and Cavenaugh :
Canada-headquartered Pacific Rim first incorporated in the Cayman Islands to escape taxes, then brazenly lobbied Salvadoran officials to shape policies to benefit the firm, and only after that failed, in 2007 reincorporated one of its subsidiaries in the United States to use CAFTA to sue El Salvador.
Details on the protest :
Demonstration Against Trade Agreements at World Bank
Thursday, December 15, 2011
12 p.m. to 1 p.m.
Murrow Park, The World Bank headquarters
1818 H Street N.W.
Washington, D.C.
For more on how CAFTA harms workers in the United States and Central America, download the AFL-CIO report, "The Real Record on Workers' Rights in Central America."
In addition to the AFL-CIO, signers include representatives of the Mine Workers (UMWA) ; United Steelworkers (USW) ; AFT ; International Federation of Chemical, Energy, Mine and General Workers' Unions (ICEM) ; the Teamsters ; Sierra Club ; and Friends of the Earth (FOE), among others.