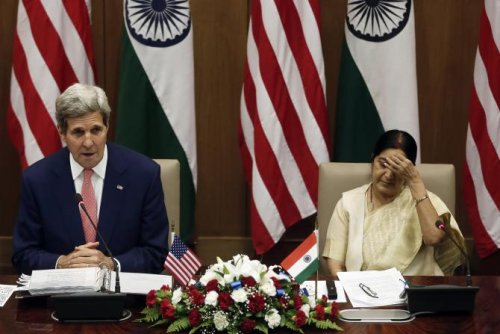 Deccan Herald | August 26, 2016
India, US to try narrow differences in BIT
India and United States will try to narrow differences on a proposed Bilateral Investment Treaty (BIT) next week, although an early breakthrough seems unlikely.
The second India-US Strategic and Commercial Dialogue scheduled to be held in New Delhi on August 30 is likely to give both sides an opportunity to review progress in the negotiation on the proposed BIT.
The two sides are likely to focus on narrowing differences on sticky issues, but the negotiations are unlikely to conclude in the coming months, sources in New Delhi said.
The US Secretary of State John Kerry and Secretary of Commerce Penny Pritzker will lead the delegation from Washington in the Strategic and Commercial Dialogue. Indian delegation will be led by External Affairs Minister Sushma Swaraj and Commerce Minister Nirmala Sitharaman.
The second Strategic and Commercial Dialogue will be the last major bilateral engagement between India and America before the tenure of the President Barack Obama's administration in Washington ends and US elects his successor in the White House. Obama and Prime Minister Narendra Modi, however, may have a bilateral meeting on the sideline of the G20 summit at Hangzhou in China early next month. Sources told DH that the BIT would possibly be inked only after the new administration would take over in Washington.
Washington conveyed to New Delhi that it had certain reservations over India's new model BIT, which would require a US investor to spend up to four years trying to resolve a dispute in local courts and negotiate for six more months before seeking arbitration by an international tribunal. Besides, Washington also had concerns over absence of two clauses in the new template adopted by India – one that would have guaranteed fair treatment to a US company before it would actually invest in India and the other, which would have guaranteed exclusive protection to US investments in India, sources said.
India and US had three rounds of negotiations on a bilateral investment treaty since August 2009, but it was paused in June 2012, as New Delhi decided to review its own template for such agreements. The negotiation got a new momentum during Modi's visit to Washington DC in September 2014 and Obama's visit to New Delhi in January 2015.
India's new model template for the BIT was cleared by the Modi government in December 2015. The US is India's largest trading partner, with bilateral trade reaching $107 billion in 2015. The US investment in India grew from a $8.5 billion in 2005 to over $35 billion last year.