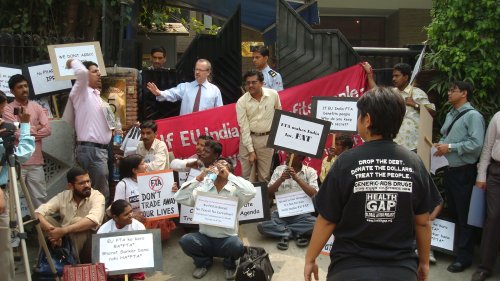 Business Standard | 14 September 2016
India stumbles on bilateral treaty talks
by Arup Roychoudhury
After initial confidence among government officials that India would swiftly sign bilateral investment treaties (BITs) with partner nations, it has now emerged that a number of countries, including the US, Canada and the European Union (EU) nations, have expressed reservations on some issues, including international arbitration.
This has led to negotiations slowing down and signing of BITs, with India's major global partners taking more time than previously anticipated, Business Standard has learnt.
Senior government sources say most countries, with whom India is negotiating the signing of BITs, have reservations about the fact that India's BIT allows foreign companies and related aggrieved parties to seek international arbitration, only if they have exhausted all domestic dispute redressal mechanism or legal options.
This provision does not sit well with partner nations, who want unconditional access to international arbitration. As a result, negotiations are delayed.
Business Standard had reported in July that India was close to signing BITs with the US, Canada and Cambodia. Negotiations with countries like the UK, Australia and EU nations were also said to be advancing at a fair clip.
In late July, Cabinet gave its approval for signing of BIT with Cambodia. The others, however, will now not be signed any time soon.
Officials maintain the finance ministry and the ministry of external affairs will continue negotiating to get partner nations to sign BITs, but added that there would be no broad revisions to the BIT provisions. Sources also say that while India wants to treat local and foreign investors on an equal basis, all countries are asking for special treatment for their investors.
"The finance and external affairs ministries will continue negotiating with renewed focus. While there will be minor changes in BITs signed with each nation, it is unlikely the contentious provision (of domestic legal recourse before international arbitration) will be dropped or amended," said a senior official, who did not wish to be named.
However, experts differed. "Countries sign BITs, so that the interests of their companies are protected in foreign markets. If the provision for international arbitration is missing or conditional, what is the point in signing a BIT?" asked Professor Prabhash Ranjan of the South Asian University.
BIT, the model draft of which was cleared by the Union Cabinet in December 2015, is expected to eventually replace the existing bilateral investment protection and promotion agreements (BIPPAs) that India has signed with 72 nations. India will also sign BITs with countries it has had no comprehensive investment agreements with before, including the US.
BIT keeps taxation out of its ambit, with the idea that foreign companies finding themselves in a tax row with the government will not be able to invoke the investment treaty their parent country has signed with India, as is the case with BIPPA.
The model BIT states that India or any other country cannot nationalise or expropriate any asset of a foreign company unless the law is followed, is for the public purpose and fair compensation paid. Public purpose is not defined in any treaty India has signed with other nations. The BIT states that dispute-resolution tribunals, including foreign tribunals, can question 'public purpose' and re-examine a legal issue settled by Indian judicial bodies.