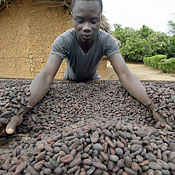 Ghana News Agency | June 29, 2010
Ghana wins arbitration dispute with German investor
Accra, June 29, GNA — The International Centre for Settlement of Investment Disputes (ICSID) has, in a landmark ruling, granted an award in favour of Ghana over an arbitration dispute instituted against her on September 24, 2007 by a German investment company, Gustav F. W. Hamester.
An official statement issued in Accra on Tuesday said the ruling in favour of Ghana was a strong pointer to current and future investors in Ghana that even though they were always welcome to accelerate the development agenda of the country, investor misconduct would not be tolerated.
It said though the arbitration tribunal concluded hearings in July, 2009 in London, it took a year to render the award and finally on June 18, 2010 declared that the acts of Ghana Cocoa Board (COCOBOD) relating to the 2001 price agreement, were not attributable to Ghana and that the acts of Ghana relating to the police investigations did not amount to a violation of the Bilateral Investment Treaty.
The statement said Mr Hamester, a partner of COCOBOD in the West African Mills Company Limited (WAMCO), a cocoa processing company in Ghana, had management control of WAMCO and exploited this advantage to dictate prices at which they were prepared to pay for cocoa beans supplied to the factory by the management of COCOBOD and dictated the price to pay for products of WAMCO they took over.
As a result of these bad business practices, management of WAMCO owed management of COCOBOD so much for cocoa beans supplied.
It said Mr Hamester's fraudulent business practices also included over invoicing of the cost of the equipment and machinery bought on behalf of WAMCO to increase the value of their shareholding in WAMCO.
The statement said when management of COCOBOD realised the fraudulent activities of Mr Hamester, it took measures to remedy the situation and called for a realistic pricing regime for cocoa sold to management of WAMCO and also to get management of WAMCO to pay for cocoa beans sold to it.
Mr Hamester resisted the processes but finally signed a price agreement by which from 2003 all categories of cocoa beans sold to the factory should be on Freight On Board (FOB).
The statement said some of the fraudulent business practices of Mr Gustav Hamester, was complained to the Ghana Police Service to institute criminal investigations into the affairs of management of WAMCO during which one of its representatives became the subject of criminal investigations.
It said during the investigations, Mr Hamester abandoned their management role and the Joint Venture Agreement and construed management of COCOBOD's efforts at ensuring a fair business relationship as governmental interference.
It lodged a complaint with ICSID and claimed damages for breaches of the joint venture agreement by Ghana.
The statement said Mr Hamester claimed that as a result of the alleged breaches it suffered losses in excess of 100 million Euros and claimed compensation for losses due to non-supply of cocoa beans in 2002 in the total sum of 33,045,03.29 Euros loss of profit from 2003 - 2008 in the sum of 27,984,000.00 Euros, and loss of its share of WAMCO'S profits from 2002 to 2008 estimated at 18.3 million Euros.