All the versions of this article: [English] [français]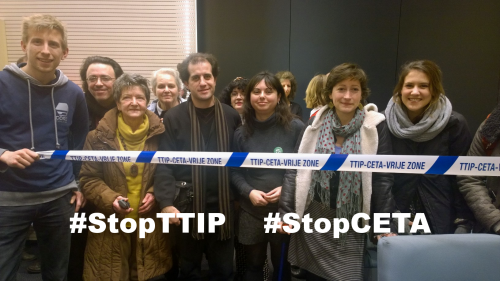 EurActiv | 8 March 2016
France sees the EU-Canada agreement as a 'template' for TTIP
by Frédéric Simon
Paris would like to "copy-paste" key passages from the EU-Canada free trade agreement, concluded this week, particularly those relating to the arbitration court that is such a controversial issue in Europe.
Minister of State for Foreign Trade Matthias Fekl welcomed the fact that the French proposal for "an international investment court" was largely included in the Comprehensive Economic and Trade Agreement (CETA), concluded on Monday (7 March) between the European Union and Canada.
Fekl noted "with interest" the adoption of the main points of the French reform agenda for investment protection. These include "the preservation of the state's right to regulate, the founding of a real public dispute settlement court and the establishment of an appeal mechanism".
Paris now hopes to apply this model to other free trade deals, particularly the Transatlantic Trade and Investment Partnership (TTIP), which is currently under negotiation between the EU and the United States.
Rapid progress
"We didn't expect things to move so fast. The whole issue was smoothed out in ten days," a French diplomatic source in Brussels told EurActiv. The source also hailed the deal as a demonstration of political will by the new Canadian government.
"Now the Americans are the big challenge," the diplomat added, referring to TTIP, a highly controversial free trade agreement.
Many obstacles still stand in the way of an agreement on TTIP, and they affect issues far beyond the dispute settlement mechanism (ISDS) that has become a lightning rod for European concerns. According to the diplomat, regulatory convergence is one area in which there is still long way to go.
"When we say we see CETA as a template, we are not only referring to the mechanisms related to investment, but also to everything else – public markets, services and regulatory convergence."
The European proposal for an international arbitration court, adopted in the agreement with Canada, "will serve as a template" for the agreement with the United States, our source said, because "it is universally applicable", even if it would have to be adapted to different situations.
"The Americans have made it clear that we will not copy-paste [the international court] from the Canadian agreement. Now we know that the Americans do not like international courts of justice," our source said. "So it will have to be adapted to fit the agreement in question."