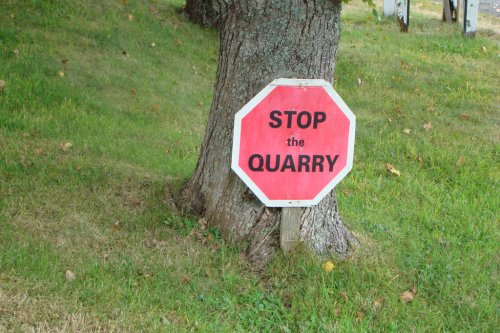 CBC | 20 August 2015
Feds appealing NAFTA tribunal decision of Nova Scotia quarry project
Paul Withers
Canada is appealing a potentially expensive decision from a NAFTA tribunal that it wrongly rejected a quarry project in Nova Scotia.
Ottawa argues the tribunal "exceeded its jurisdiction" when it upheld a claim from a New Jersey concrete company, Bilcon, that it was entitled to compensatory damages.
Bilcon claimed it was blindsided by the way a joint federal and provincial review panel examined and recommended the rejection of its proposed 50-year quarry at Whites Point, Digby Neck.
Ottawa and Nova Scotia accepted the advice, triggering the 2008 Bilcon appeal to the NAFTA tribunal claiming a breach of international law.
In March of this year, the tribunal sided with Bilcon. It found the company had been treated unfairly by the review panel which — it said — did not properly assess the environmental effects, ignored mitigation measures and didn't follow Canadian and Nova Scotian law.
Bilcon is seeking $300 million in damages for losses because of wrongful behaviour.
Ottawa's June 16 notice of appeal to the Federal Court of Canada was posted on the Department of Foreign Affairs, Trade and Development website.
Ottawa wants the order thrown out
Canada argues the NAFTA tribunal award contains decisions on matters beyond the scope of the arbitration.
It says the methodology used by the Joint Review Panel (JRP) is not attributable to Canada and the tribunal had no business weighing in on the panel.
"The Award is in conflict with the public policy of Canada, contrary to Article 34(2)(b)(ii) of the Code insofar as it usurps the judicial review function of Canadian courts," the appeal states.
"A determination of whether a JRP's recommendations departed from the requirements of Canadian law is one that only Canada's courts, not NAFTA tribunals, are authorized to make, and one for which the only prescribed remedies are those that can be obtained through judicial review, not an award of NAFTA damages."
Ottawa wants the order set aside and it is seeking costs and other relief.
Other than to confirm that it has appealed the tribunal ruling, the Department of Foreign Affairs, Trade and Development would not answser questions from CBC News about the case.
"Under Canada's Commercial Arbitration Act, decisions of arbitral tribunals, such as NAFTA Chapter 11 tribunals, can be subjected to statutory review on limited grounds," the Department said in an emailed statement.
"The Government of Canada is committed to transparency in NAFTA Chapter 11 disputes."
There was no response from the Appleton & Associates, the Toronto law firm that represented Bilcon.