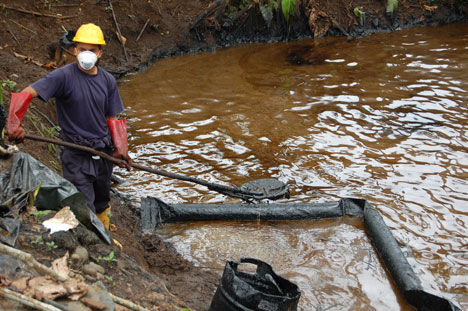 EFE | Fri, 05 Feb 2010
Ecuador : Oxy's demands for compensation unfounded
Quito — The Ecuadorian government said Occidental Petroleum deserves no compensation for the cancellation of its massive oil concession in the Amazon region, arguing that the decision was taken after the U.S. company broke the law and its contractual obligations by handing over a stake in that project to a Canadian firm.
The Attorney General's Office said that has been the principal argument of the legal team representing the Ecuadorian government at arbitration hearings in Washington.
The previous Ecuadorian administration terminated Oxy's concession in April 2006, alleging that it transferred a 40 percent stake in its Amazon fields to Canadian oil firm Encana without informing the government.
The California-based company says that, under the terms of a bilateral investment treaty, Ecuador must pay full compensation for nationalized investments, and it filed for arbitration at the World Bank's International Center for Settlement of Investment Disputes in the U.S. capital.
In a statement, the AG's office said the final oral arguments in the case will be presented through Friday at the ICSID tribunal.
Ecuador's lead attorney, Diego Garcia, said the "compensation demanded by Oxy is unfounded" because the infraction committed by the U.S. company constituted a violation of the nation's laws and of the concession terms.
According to the AG's office, Ecuador's defense attorneys began presenting their final oral arguments on Thursday and will have the opportunity to respond to Oxy's arguments in a final hearing scheduled for Friday.
The ICSID judges will then analyze and deliberate on the arguments and evidence submitted and hand down their ruling, which should be issued sometime in 2010.
Ecuador expects the court's ruling "will recognize that the Ecuadorian government acted in accordance ... with Ecuador's Hydrocarbons Law and the clauses of the contract in question" in terminating the concession, the AG's office said.
The court should therefore reject Oxy's claims for compensation, the statement concluded.
Following the cancellation of Oxy's contract, its infrastructure in Ecuador reverted to state oil firm Petroecuador, which currently is exploiting the U.S. company's former concession area.