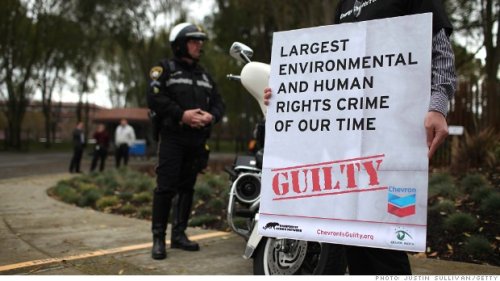 EFE | 22 de enero de 2014
Ecuador: International support crucial in battle with Chevron
Montevideo, Jan 22 (EFE).— Ecuador's hopes of winning a legal struggle against U.S. oil supermajor Chevron Corp. pertaining to a multi-billion-dollar pollution judgment rest on the degree of "global solidarity" with the Andean nation, Foreign Minister Ricardo Patiño said Wednesday.
"If it were just a fight between Chevron and Ecuador, we would surely lose," but the impact of global solidarity could turn the tide in the country's favor, the minister told Efe in an interview in Montevideo.
Patiño is in Uruguay to take part in a conference of signatories to the Inter-American Convention on Human Rights.
"Chevron has bought people off. It's paying their stay in the United States so they testify that pressure was brought to bear on the Ecuadorian judiciary. But the international response weighs more heavily. Entire legislatures, like the Dominican Republic's, have backed Ecuador," he said.
Chevron and Ecuador have been immersed in a legal battle after courts in the Andean nation ruled in favor of 47 named plaintiffs representing some 30,000 rainforest villagers and Indians.
In 2011, a court in the northeastern Ecuadorian Amazon province of Sucumbios found that Texaco, acquired by Chevron in 2001, dumped millions of gallons of crude residue and toxic waste water in the rainforest between 1964 and the early 1990s and thereby spoiled the lands and damaged the health of the local population.
Ecuador's National Court of Justice upheld the verdict late last year, although it cut the penalty imposed by a lower tribunal in half to $9.5 billion.
Chevron has refused to pay and says Ecuadorian state oil company Petroecuador is responsible for the pollution.
The Ecuadorian plaintiffs have sought to enforce the judgment in Argentina, Canada and Brazil by asking courts in those countries to seize Chevron's assets.
The company, for its part, filed an international arbitration claim against Ecuador for alleged violations of its obligations under the United States-Ecuador Bilateral Investment Treaty.
Last year, the Permanent Court of Arbitration at The Hague handed down a partial verdict that found Chevron was not liable for the pollution.
The San Ramon, California-based company also has brought legal action in a U.S. federal court in New York against the plaintiffs' lawyers and consultants for violations of the federal racketeering statute, accusing them of engaging in fraud and trying to extort a financial settlement from the company.
The Ecuadorian government initially did not intervene because the court battle involved private parties, the foreign minister said.
The government got involved only after the company filed lawsuits against Ecuador and launched a "global media campaign" aimed at tarnishing the country's reputation, Patiño said.
"Our job is to bring visibility to this matter," he said.