All the versions of this article: [English] [français]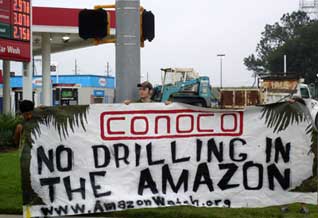 The Financial | 4 December 2017
ConocoPhillips and the Republic of Ecuador agree to settlement of ICSID award
ConocoPhillips announced on November 4 that it has reached an agreement on the terms of payment to Burlington, a wholly-owned subsidiary of ConocoPhillips, by the Republic of Ecuador under a February 2017 International Centre for Settlement of Investment Disputes (ICSID) arbitration award.
Under the terms of the agreement, ConocoPhillips will recover a total of $337 million from Ecuador. On Dec. 1, 2017 Ecuador paid $75 million, with the balance of $262 million to be paid by April of 2018. The settlement amount includes an offset for the decision awarding Ecuador $42 million on its counterclaims, of which Burlington is entitled an additional $24 million through a third-party contribution, according to ConocoPhillips.
"We are pleased that the government of Ecuador abides by the rule of law and worked constructively with us to come to a mutually acceptable resolution," said Janet Langford Carrig, ConocoPhillips senior vice president, Legal, General Counsel & Corporate Secretary.
In December of 2012, the ICSID Tribunal ruled that Ecuador unlawfully expropriated the company's significant oil investments in Blocks 7 and 21, in violation of the U.S. – Ecuador bilateral investment treaty. In February of 2016, the tribunal issued an award on damages, and in August of 2017, the ICSID Annulment Committee lifted the stay of enforcement of the award allowing ConocoPhillips to start enforcing the award.