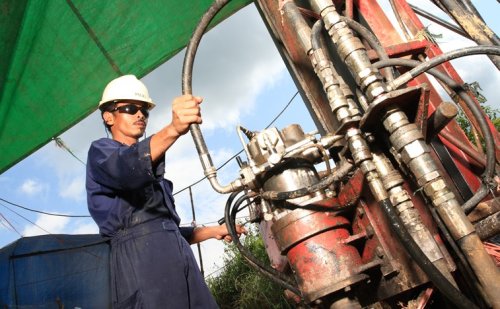 Digital Look | 7 December 2016
Churchill Mining's $1bn claim against Indonesia struck off

by Maryam Cockar
A tribunal has struck out a claim by Churchill Mining for damages after Indonesia's government revoked its licence for a coal project.
The AIM-listed miner said it was "extremely disappointed" by the decision by a tribunal from the International Centre for Settlement of Investment Disputes that ruled that the Indonesian government could dismiss its claims over the Kutai coal project in East Kalimantan, after its licenses were taken away.
The tribunal said that the 34 documents that the company presented were not authentic and the forger of the documents was "most likely a person or persons acting for or on behalf of Churchill's Indonesian partner, the Ridlatama group, in collusion with a person inside the East Kutai Regency".
However, it also found that neither the company, nor any of its officers, had been involved in any forgery.
It also said the company's due diligence assessments at the time of acquiring the licenses were "insufficient".
The tribunal dismissed the company's claim for $1bn compensation and ordered it to pay $9.45m for costs and arbitration fees. The company said the suspension of shares on AIM will remain until it could clarify its financial position.
In 2010 Isran Noor, East Kutai's local government regent, revoked the company's license to mine alleging the outfit and its Indonesian partners had cut down a protected forest in the region.
Churchill chairman David Quinlivan said: "We are obviously extremely disappointed by the tribunal's decision and the fact that the tribunal drew no adverse inferences against Indonesia following the refusal by Mr Isran Noor to attend the August 2015 hearing so that he could be cross-examined and the refusals by Indonesia to provide documents that the tribunal itself considered prima facie relevant.
"While we are still reviewing the reasons, the tribunal appears to have accepted that Mr Noor was deceived into signing the exploitation licenses despite his non-appearance and his witness statement having been struck from the record. Indonesia has always conceded that the East Kutai coal project exploitation licenses were validly issued and signed and it is difficult to understand how the tribunal found otherwise on the evidence available."
The company is considering requesting the ICSID annul the award and is working with law firm Clifford Chance to establish the best way to move forward.
ICSID's process allows for the award to be annulled if it is found that the tribunal was not properly constituted, that it "manifestly" exceeded its powers, that there had been a serious departure from the fundamental rule of procedure, or that the award failed to state the reasons on which it is based.