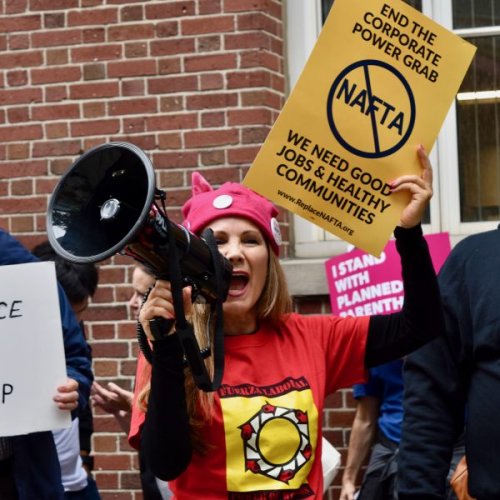 The Globe and Mail | 14 September 2017
Canada pushing to revamp NAFTA lawsuit provision
by Robert Fife and Steven Chase
Canada is pushing for major changes to a NAFTA provision that governs the adjudication of lawsuits filed by North American businesses against governments for damages to their investments – and the United States has yet to reject the idea.
The goal of Foreign Affairs Minister Chrystia Freeland and her negotiating team is to revamp Chapter 11 so it more closely mirrors the investor-state dispute-resolution mechanism that forms part of the 2016 Canada-European Union trade deal, including set rosters of judges to hear these cases rather than ad hoc appointments of independent arbitrators.
Sources with knowledge of the continuing talks between Canada, the United States and Mexico tell The Globe and Mail that the United States has not dismissed the Canadian proposal out of hand. There is a discussion under way, they say, and it's not stalemated like other subject areas.
Chapter 11 provides for a system where companies from NAFTA member countries can get timely arbitration of lawsuits if they feel their investments have been unfairly damaged by government action. Arbitrators are appointed by the countries involved to weigh the case and make decisions.
Critics have said the arbitration approach is too vulnerable to conflicts of interest faced by the lawyers asked to sit on adjudicating panels.
Ottawa is seeking a system where Canada, the United States and Mexico would establish set lists of judges who would be available to hear investor claims under Chapter 11. Canada also wants language in NAFTA that reinforces member countries' inherent right to legislate as they see fit in the public interest, including on the environment, health or safety.
The 1989 Canada-U.S. free-trade deal left investor claims to be resolved through existing court processes in both countries. But when NAFTA was negotiated in the early 1990s, the Americans did not trust Mexican courts and insisted on ad hoc trade tribunals to resolve such lawsuits in a timely fashion.
(Chapter 11 is a separate matter from NAFTA renegotiation talks on Chapter 19, which regulates disputes between the three countries on the application of punitive duties to counter alleged dumping or subsidization of goods. The United States wants to scrap Chapter 19 and Canada has been clear it will walk away from the negotiating table if the Trump administration insists on this. Washington wants these disputes solved by judicial review in domestic courts.)
On another front in the negotiations, sources say Canada and the United States are taking a firm common stand on the enforcement of labour standards in the NAFTA zone. They want a renegotiated NAFTA pact to include penalties if Mexico tries to keep worker wages low by not living up to labour standards set by the three countries.
The stalled Trans-Pacific Partnership trade deal among Pacific Rim countries had labour provisions that called on signatory countries to respect the right to collective bargaining; to ban forced and child labour; and to eliminate discrimination against employees based on gender, race or physical disability.
Better labour rules in Mexico won't necessarily create a wealth of new jobs in manufacturing in the United States and Canada, but it should help stem the flow of manufacturing businesses to the low-wage country.
Mexico's political and business leaders have resisted demands to bring wages into line with Canada and U.S. levels, arguing the cost advantage should decrease as Mexico develops economically.
American and Canadian labour leaders say Mexico's lax labour standards and lower wages have enriched Mexico at the expense of workers north of the Mexican border.
Canada and Mexico agreed to renegotiate NAFTA earlier this year at the insistence of U.S. President Donald Trump, who vowed during his 2015 election campaign to tear up the accord if it wasn't rewritten to provide a better deal to U.S. workers.
NAFTA renegotiations began in August in Washington. There was a second round in Mexico City earlier this month and a third round is set to take place in Ottawa from Sept. 23 to 27. Hard bargaining on Chapter 11, and on labour and environmental standards, as well as on North American auto-content rules is expected to be the key focus of the Ottawa round.
Canada has been the principal target of Chapter 11 damage claims by U.S. and Mexican investors. Ottawa has been sued nearly 40 times under NAFTA by U.S. firms, many of them over Canadian provincial environmental protection regulations.
The Canadian Centre for Policy Alternatives calculates that Canada has been required to pay out more than $220-million. Mexico has paid out more than $200-million (U.S.) but has faced fewer claims. The United States, by comparison, has not paid out any money to settle claims.
Toronto international trade lawyer Larry Herman said he would support rewriting NAFTA's Chapter 11 to reflect the process for handling investor claims set up under the Canada-European Union free-trade deal. He said changes including set rosters of judges would help improve the perceived impartiality and transparency of the system.
The Canada-EU deal also creates a fast-track process for dismissing what are judged to be frivolous claims.
"My view is these are good changes for the overriding reason it improves public confidence in the system. I think Canada should push in that direction in the NAFTA negotiations certainly," Mr. Herman said.