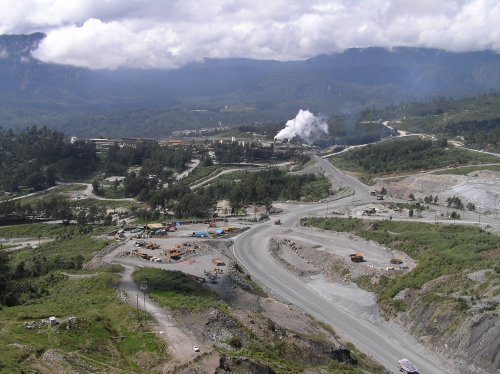 Mining.com | 28 August 2020
Barrick to fight PNG's attempt to grant Porgera lease to state-backed miner
by Cecilia Jamasmie
Canada's Barrick Gold (TSX: ABX) (NYSE: GOLD) said it would challenge the Papua New Guinea (PNG) government alleged move to grant a 20-year lease for the Porgera gold mine to a state-backed firm.
The world's second-largest gold producer and its Chinese partner, Zijin Mining, are embroiled in a dispute with Prime Minister James Marape, who rejected in April their application for a lease extension.
Sign Up for the Precious Metals Digest
The companies temporarily halted operations in response. They also served Marape with a dispute notice arguing the refusal of Porgera licence extension violated a bilateral investment treaty between PNG and Australia. The move, they said, also infringed international law governing foreign investment.
Barrick said at the time that if the parties were unable to settle the row through negotiations, it would take PNG to international arbitration.
Barrick Niugini Limited (BNL), Porgera's operator, said in a release it was aware of alleged actions taken by the Marape government to grant the mining for Porgera lease by Marape to state-owned Kumul Minerals Holdings.
The company noted it considered such move "unlawful and "invalid", adding that it was unaware of any consultation with local owners about the change.
"In purportedly granting a special mining licence in this non-transparent and rushed manner, the Marape government sets a precedent of the State disenfranchising landowners and making decisions with fundamental consequences for their futures and those of their children without doing them the justice of listening to their views," BNL said in the statement.
Settlement attempts
Barrick offered in May an extra 15% stake in the Porgera mine to local landowners, in a fresh attempt to break the impasse with the government over the mine's future.
PNG later threatened Barrick with criminal proceedings, claiming the company's joint venture in the country was planning to illegally export $13 million in gold and silver to Australia. BNL refuted the allegations.
The ongoing dispute has done to Barrick what the pandemic did not — dent its expected output for the year. It now expects to produce between 4.6 million and 5 million ounces of gold this year — 200,000 ounces lower than its previous estimate.
Barrick revealed at the time that PNG was also asking the company and Zijin to pay $191-million in back taxes, arising from tax audits conducted between 2006 and 2015.
Earlier this week Marape said his government wanted to reopen the mine, but that the lease had reverted to the state. He has previously said the mine should be operated by the government of PNG.
Tier one potential
The company's president and chief executive officer, Mark Bristow, said in March that Porgera had "tier one potential" but faced many challenges in the form of "legacy issues and an unruly neighbourhood."
The gold mine, located in PNG's northern highlands region, is a joint venture between Barrick and Zijin Mining. Each owns 47.5% of the mine, with the remaining 5% held by landowner group Mineral Resources Enga.
Porgera contributes to about 10% of the nation's exports and employs over 3,300 Papua New Guinea nationals.
The open pit and underground gold mine sits at an altitude of 2,200-2,600 metres in Enga province, and is about 600 km (370 miles) northwest of Port Moresby.
Other mining companies operating in PNG, including Australia's Newcrest (ASX: NCM), have not been impacted by the decision regarding Porgera. The miner has "welcomed" the Prime Minister's support for its Wafi Golpu gold and copper asset, adding that its special mining lease at the Lihir operations remains in good standing with a renewal not needed until 2035.