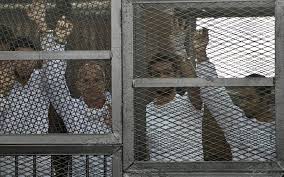 Financial Times | April 28, 2014
Al Jazeera sues Egypt for $150m after crackdown on journalists
By Shawn Donnan in London
Al Jazeera has lodged a $150m claim for compensation against Egypt, turning to an international investor arbitration tribunal in its latest bid to fight a crackdown by the government in Cairo.
The Qatari-owned broadcaster and its journalists have the been the target of an intense campaign by Egyptian authorities, who accuse the channel of being biased in favour of the now-outlawed Muslim Brotherhood of ousted president Mohamed Morsi. In moves that have drawn international condemnation, four of its journalists have been detained and put on trial by Egyptian authorities and its operations in the country have been shut down.
Lawyers for Al Jazeera on Monday notified the Egyptian government that they would be seeking compensation under the investor/state dispute mechanism included in a 1999 investment treaty between Egypt and Qatar.
The lawyers argue that by arresting and attacking Al Jazeera journalists, seizing the broadcaster's property and jamming its signal, the Egyptian government has violated its rights as a foreign investor in the country and put the $90m it has invested in Egypt since 2001 at risk.
"There has been a prolonged and sustained attack on Al Jazeera in Egypt," Cameron Doley, a senior partner at Carter-Ruck, the London-based law firm representing Al Jazeera, told the Financial Times.
"A media entity is a commercial entity like any other. If your business is wiped out in a given country it doesn't matter if you are Al Jazeera, the FT or a manufacturer of car parts – you suffer the loss of your investment."
Under the terms of the 1999 investment treaty the two sides have six months to try to find an amicable solution. If a solution is not reached the case would go before a panel at the World Bank-administered International Centre for Settlement of Investment Disputes in Washington.
Cases taken to ICSID can take years to resolve. But Mr Doley said it was one of the only avenues "with teeth" available to Al Jazeera to seek compensation for its commercial losses in Egypt.
Disputes between foreign media groups and governments have been the subject of international arbitration cases before. But the dispute with Al Jazeera would nonetheless represent a major test of the system and its capacity to deal with non-traditional issues, such as freedom of expression and human rights.
Al Jazeera, which has been controversial in the Middle East for its often critical reporting of the region's authoritarian governments, is at the centre of a broader diplomatic war between Qatar, which has been sympathetic to the Islamist Muslim Brotherhood group, and its Gulf neighbours Saudi Arabia and the United Arab Emirates, which have launched a fierce crackdown against the group and given considerable diplomatic and financial support to the military-backed regime in Cairo.
The case is also likely to add to a broader global debate about the way in which companies can challenge governments via bilateral investment treaties.
Investor/state dispute mechanisms have been a feature of investment treaties for the past half-century but have been used increasingly by companies in the last decade to challenge government decisions. In the most frequently cited example, Philip Morris International has used an investment treaty to challenge Australia's plain-packaging laws for cigarettes.
Critics argue that the investor/state dispute clauses give corporations and foreign investors special rights and allow them to circumvent local judiciaries. Business groups and many governments argue that they are vital to protecting and attracting foreign direct investment, particularly in countries with unpredictable judiciaries.
The proposed inclusion of an investor/state dispute mechanism in an EU-US trade agreement currently being negotiated has been seized on by critics of those talks. Opponents in countries like the US and Australia are also lobbying against the inclusion of an investor-state dispute clause in a new 12-country Pacific Rim pact, the Trans-Pacific Partnership.