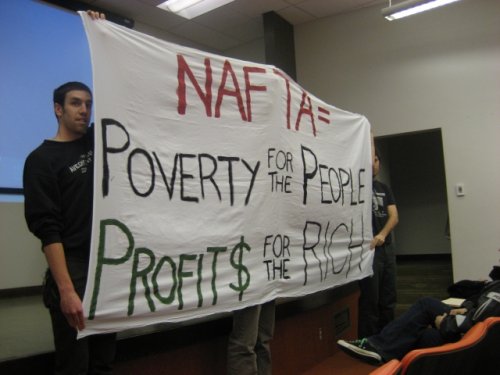 AFL-CIO | 11 November 2015
What a new NAFTA complaint can tell us about the TPP
Ricardo Icaza
As the Trans-Pacific Partnership (TPP) debate intensifies, a coalition of U.S. and Mexican labor and civil society groups are taking an unprecedented legal approach to protect workers' rights that will test the strength of labor protections in international trade agreements.
The coalition, led by the Frente Auténtico del Trabajo (FAT) union in Mexico and the United Food and Commercial Workers (UFCW) Local 770 in the United States, on behalf of locals 324, 770, 1167 and 1428, filed "double barrel" complaints today under the North American Free Trade Ageement (NAFTA) and Organization for Economic Cooperation and Development (OECD) guidelines. The complaints seek to halt Mexican retail giant Chedraui Commercial Group's abuses of workers' rights abuses on both sides of the border.
Chedraui is a multinational firm that should live up to the labor standards set by NAFTA and the OECD guidelines. In both Mexico and the United States, the company has silenced employees' voices and trampled their rights, and we believe an international solution is necessary to this international problem.
Chedraui is Mexico's third-largest retail chain with 35,000 employees in more than 200 stores throughout the country. Through its 83% ownership stake, Chedraui controls California-based Bodega Latina Corp. and its El Super chain. El Super has 50 supermarkets, employing more than 5,000 workers in California, Arizona and Nevada.
The joint complaint has implications for the upcoming congressional review of the Trans-Pacific Partnership. University of Maryland international labor law professor Marley Weiss, who was formerly chair of the U.S. National Advisory Committee on the NAFTA labor agreement, said:
President Obama is pushing for TPP approval in the face of strong opposition from unions and others who see it as a giveaway to multinational companies that will only intensify inequality and downward pressure on jobs and wages. If the administration fails to take strong action in this Chedraui case, critics will see it as a signal that the United States is falling short on linking trade, investment and labor rights.
The OECD complaint calls for a halt to El Super's aggressive, multi-year campaign of coercion against U.S. workers seeking a living wage, adequate sick days and affordable health insurance. El Super workers have been without a union contract for more than two years. The NAFTA complaint alleges that Chedraui has cultivated dozens of sham unions in Mexico through so-called "protection contracts" that represent the interests of management, not workers, and prevent the formation of independent unions.
This filing is the first time complaints about a company's international labor abuses have been simultaneously submitted under both the OECD and NAFTA complaint mechanisms. The groups filing the complaints believe this approach will produce results tailored to the situation in each country. The Los Angeles Alliance for a New Economy (LAANE) and the Project on Organizing, Development, Education and Research (PODER) in Mexico co-filed the complaints with the UFCW and FAT.