Vietnam+ | 4 December 2017
Vietnam, EU seek to accelerate FTA signing
(VNA) – Minister of Industry and Trade Tran Tuan Anh had a working session with European Union (EU) officials to foster economic and trade cooperation and settle existing problems, thus speeding up the signing and ratification of a free trade agreement (FTA) between the bloc and Vietnam.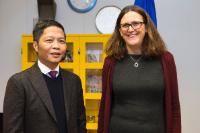 In a meeting between Anh and European Commissioner for Trade Cecilia Malstrom, the two sides agreed to continue efforts to reach consensus on the deal.
They will work to re-structure the agreement to suit the proposal to separate the investor-state dispute settlement (ISDS) issues to a new deal apart from the FTA, as the EU uses separate procedures to settle disputes than to ratify FTAs.
Anh said that both sides also discussed solutions to finalise the agreement in early 2018.
With the separation of the deal, the FTA is expected to be completed and start in 2018 or 2019, while the ISDS will be discussed and agreed in later years.
During his visit, Anh and Stefano Manservisi, EU Director-General for International Cooperation and Development, signed an agreement for the EU to provide 108 million EUR (129 million USD) as non-refundable aid to Vietnam.
The funds will be allocated to 23 projects in power supply for 23 rural and mountainous localities from 2018-2020.
Manservisi said that the support will help expand the renewable network and resources for rural and remote areas, while reducing greenhouse gas emissions, part of measures to implement the agreement reach during the Paris Climate Change conference.
During his stay, Anh also worked with some European businesses to encourage them to partner with Vietnamese firms.