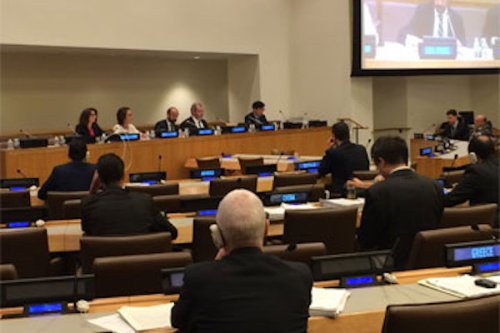 EJIL: Talk! | 8 October 2020
UNCITRAL WGIII and human rights: towards a more balanced ISDS system?
by Siobhán McInerney-Lankford and Manuela Corredor Vasquez
Introduction
Human rights law and investment arbitration law have traditionally been viewed as divergent fields, reflecting distinct objectives and representing the interests of different stakeholders. The investor-state dispute settlement system (ISDS) has been criticized for its asymmetrical nature, creating competing legal obligations for States, and granting rights to investors while limiting the States' regulatory power and constraining their ability to comply with their international human rights law (IHRL) obligations.
In 2017, the UNCITRAL Working Group III on Investor-State Dispute Settlement Reform (WGIII) began assessing the potential for a holistic reform of the ISDS system in a way that would address legitimacy concerns and rebalance the system (UNICTRAL and ISDS Reform).
This post describes how WGIII has approached human rights and suggests ways in which human rights are relevant for an effective ISDS reform.
WGIII position on human rights
At its 34th Session (2017), WGIII noted that "critical questions on possible ISDS reform involved underlying substantive rules" but confined its mandate to procedural matters. WGIII also recognized that the ISDS reform "raised complex issues of public international law" such that the reform should be government-led.
WGIII appears to acknowledge the importance of addressing both substantive and procedural challenges in a holistic reform of the system when it recognized it could address "other concerns not covered by the broad categories of desirable reform already identified", including the rights and obligations of foreign investors and the need to protect the States' regulatory power.
Some practitioners have argued that the limited scope of WGIII's interpretation of its mandate is a missed opportunity to align the ISDS system with SDGs and address its systemic imbalances (Investor-state arbitration: an opportunity for real reform?)
Further, human rights concerns have been raised by intervening Delegations and Observers in several WGIII sessions. WGIII has acknowledged the importance to address those concerns in an effort to design effective solutions (WGIII Session 37th).
During the 37th Session (2019), WGIII analyzed human rights concerns along two axes: (i) First it addressed third-party participation, recognizing that ISDS can have an impact on the rights and interests of third-parties who have few or no options to seek remedies against investors for project related human rights abuses (Impacts of the Investment Regime on Access to Justice). WGIII stressed that "as a matter of legitimacy of the ISDS system, it would be important that affected communities and individuals as well as public interest organizations be able to participate in the ISDS beyond submissions as third parties" (Report 37th Session, para. 31). Here, WGIII concluded that those aspects could be addressed under its work on the inconsistency and incorrectness of awards and giving parties more control of the ISDS process. (ii) Second, it considered counterclaims, referring to the obligations of investors with respect to human rights, linking this to the question of allowing counterclaims by States. WGIII did not pursue the matter further and concluded that counterclaims should be allowed where there is a legal basis to do so.
To ensure legitimacy, the ISDS system should address human rights law directly, not solely through amicus curiae submissions or counterclaims, both of which are limited and do not adequately reflect the concerns of third-parties rights affected by the ISDS system. By its nature, amicus curiae in ISDS is designed to provide information on points of fact or law, not provide effective protection for human rights directly implicated in a dispute
Should WGIII address HRs in ISDS?
The last decade has seen an increase in concerns regarding the asymmetry inherent in the ISDS system. There have been calls to redress the imbalance between rights and obligations of investors and States, and proposals for an enhanced role for human rights in the ISDS system.
A number of arbitral awards attests to the links between IHRL and ISDS. The UN Working Group on the issue of human rights and transnational corporations and other business enterprises (WGHR) has urged WGIII to address human rights matters as a fundamental step in holistic reform of the ISDS system. The WGHR underscored the importance of addressing not only procedural concerns, but also remedying the power imbalance between investors and States "which is so deeply entrenched in the architecture of the ISDS system" (WGHR Communication).
During its 36th Session (2018), WGIII finalized its second phase of work identifying the three principal concerns to be addressed in following sessions: (i) fragmented arbitral outcomes (consistency, coherence and correctness of arbitral interpretations); (ii) the arbitrators' qualifications (independence, impartiality and conflict of interest); and, (iii) costs and duration
If WGIII focuses exclusively on the three concerns noted above, particular attention should be paid to the implications of these for IHRL.
(i) Concerns regarding consistency, coherence and predictability, is directly related to the role of human rights in the deliberations of tribunals which have interpreted applicable law, including international law, in divergent ways.
During its 34th Session (2017), WGIII went on to state that it would confine its focus to cases where the same treaty standard or rule of customary international law was interpreted differently in the absence of justifiable grounds for the distinction. WGIII highlighted that efforts should center on whether decisions were correctly interpreting treaties in line with interpretative rules of public international law, rather than if they were consistent with decisions by other tribunals. WGIII made assurances that a coherent and consistent ISDS regime would support rule of law and bring legitimacy to the system. At the 35th Session (2018), it was recalled that predictability is important to both States and investors and contributes to sustainable development.
Before the 36th session, WGIII Secretariat prepared a note outlining the main scenarios under which inconsistency in decision-making has arisen in practice, and areas of law affected by those decisions, including the inconsistent application of customary international law. The note concluded that the main concern was not inconsistency per se but the incorrect interpretation of provisions, ignoring the intention of the parties to the treaties or contrary to applicable rules of interpretation. At the 36th Session, WGIII acknowledged the lack of consistency in the interpretation or application of substantive protection standards and its potential to undermine the reliability, effectiveness and predictability of the ISDS system; it concluded that unjustifiably inconsistent interpretations required reform.
We submit here that in addressing the issue of coherence, correctness and predictability, WGIII should develop clear guidance on the application of international law norms (including human rights norms), and recognize the duty of arbitrators to give adequate weight to States' human rights law obligations. Furthermore, WGIII could also underscore the responsibility of corporate investors to respect human rights under the UNGPs, consistent with the proposal of the WGGHR.
(ii) With respect to the qualifications of arbitrators, WGIII should go beyond the question of independence and impartiality. During the 34th Session, WGIII observed that inconsistencies in ISDS arose in some cases due to arbitrators. During the 35th Session, WGIII recalled that the qualifications of arbitrators should include an ability to take into account issues of public interest, although it also noted that arbitrators were not necessarily cognizant of public interest and public international law. The WGHR had made a similar observation on the importance of broadening the backgrounds and qualifications of the pool of arbitrators to help address the lack of coherence, correctness and predictability concern. Here the need for arbitrators to have broader public international law backgrounds would be an obvious reform, including having some knowledge of human rights law, public interest law and environmental and social regulation.
(iii) On the issue of cost and duration of ISDS cases, during the 34th Session WGIII recognized that costly proceedings have placed a heavy burden on States and that those high costs paid with public funds could divert funds away from urgent development needs and limit the access of small and medium-sized investors to the ISDS system. The WGHR referred to the potentially negative impact of high costs and high value ISDS awards on the fiscal and regulatory space necessary to protect and promote human rights. During the 36th and 37th Sessions, WGIII referred to the potential for high costs to cause reputational harm and exert a chilling effect on regulatory action.
In addressing this concern, WGIII should consider that the mere threat of ISDS has discouraged certain States from exercising regulatory power over economic activities in order to fulfill social and environmental rights.
Conclusion:
The work of WGIII represents an important opportunity to ensure that holistic reform of the ISDS system addresses key legitimacy concerns, including with respect to human rights. However, the position of WGIII towards human rights concerns remains ambiguous. On the one hand, WGIII acknowledges the potential impact of the ISDS system on the rights of third-parties; it has also recognized the importance of including IHRL in the interpretation and application of public international law, in order to ensure consistency, coherence and predictability. On the other hand, WGIII has not presented reform proposals to address the lack of consistency and coherence in the interpretation and application of IHRL.
Effective and holistic reform must go beyond procedural matters and cover substantive matters, or at least substantive dimensions of its procedural mandate, in order to rebalance the system and address recurring concerns that threaten the legitimacy of the ISDS system.
At the upcoming 39th Session, WGIII should address the impact of ISDS system on IHRL and acknowledge the concerns reflected in the new wave of IIAs which explicitly mention human rights in their preambles and their substantive provisions, including provisions that safeguard the state's regulatory power, recognize the state's human rights obligations and acknowledge the responsibility of investors to respect human rights.
Siobhán McInerney-Lankford
Dr. Siobhán McInerney-Lankford is Senior Counsel at the World Bank Legal Vice-Presidency and an expert in international human rights law. She has advised the World Bank on human rights since 2002 and has represented the World Bank in a variety of fora including the UN, EU and the OECD; from 2006-2009 she chaired the OECD DAC Human Rights Task Team. At the World Bank she has worked primarily in the Legal Department (in both advisory and operational capacities). She has also worked in the Banks' Policy Department where she served as Legal Advisor to the Bank's first Human Rights Trust Fund. Dr. McInerney-Lankford is an adjunct professor at AU Washington College of Law, and has lectured at EPLO, EIUC, the Fletcher School, Harvard and the UN Summer Academy. She is co-editor of a book on Human Rights Methods (Edward Elgar, 2017). Dr. McInerney-Lankford holds an LL.B. from Trinity College, Dublin, (First Class Honors), an LL.M. from Harvard Law School, a B.C.L. and D.Phil. (EU human rights law) both from Oxford. She is admitted to practice law in Rhode Island and the District of Columbia. Posts are written in the authors' personal capacity and do not purport to reflect the views of the World Bank, its Board of Executive Directors or its Member governments.
Manuela Corredor Vasquez
Manuela Corredor Vasquez is a Legal Consultant at the World Bank Legal Vice-Presidency, in the Operation and Policy Unit. Manuela holds a LL. B from Universidad Javeriana (Colombia), an LL.M in International Legal Studies from NYU and is an EMPA Candidate at Columbia University. Before joining the World Bank, Manuela worked in commercial and investment arbitration and enforcement proceedings both at the private and public sectors. Manuela was an International Finance and Development Fellow at the International Development Law Organization and adjunct professor of Public International Law at Universidad Javeriana. She is co-author of the book Sovereign Immunities of the States: A Suitable Model for Colombia published by Universidad Javeriana. Posts are written in the authors' personal capacity and do not purport to reflect the views of the World Bank, its Board of Executive Directors or its Member governments.