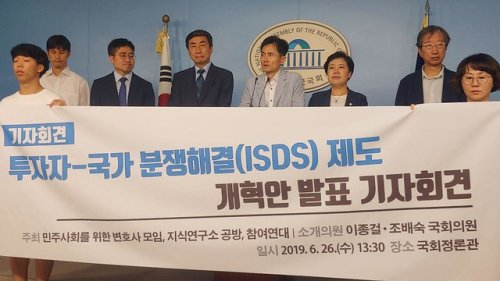 Occupy FTA - 01 August 2019
Press Release
Trade Minister of South Korea should not undermine the ISDS reform objectives pursued by the Prime Minister
On July 12, 2019, the Korean Prime Minister officially stated at the National Assembly that he "agreed to abolish investor-state dispute settlement (ISDS)".[1] This remark is in line with the recommendation of UN human rights experts to UNCITRAL member states,[2] which calls for a structural and systematic reform of ISDS. The underlying idea of both the Korean Prime Minister and the UN human rights experts is that investors should not be privileged to ignore domestic laws, institutions and culture or to undermine the ability to protect the environment, human rights and labours' rights of the investment hosting countries. The best way to implement such ideas is to abolish ISDS.
But it is shocking to see that the Korean negotiators of RCEP, especially the Trade Minister, Ms. Yoo, Myung-hee, still maintains the position to support ISDS at the 27th round of Regional Comprehensive Economic Partnership (RCEP) taking place in China this week. Unlike the old-fashioned perception of the Korean negotiators, ISDS is not a matter of win or lose game between Korean investors and developing countries. It's about the regulatory space of states in the public interest versus the private interest of investors. As a civil servant, the Trade Minister should take seriously into account public interests and national obligations under international human rights instruments.
ISDS cases against South Korea also show that the Korean negotiators' position fails to understand the nature of ISDS. The latest ISDS case against South Korea was brought by Malaysian investor, Berjaya Land Berhad.[3] Further, the first ISDS dispute that South Korea lost was raised by a Singaporean entity, D&A, which was invested by Iranian company, Dayyani group.[4] These cases illustrate that the nationality of the investor and degree of development of hosting countries has nothing to do with the possibility of ISDS disputes. Moreover, various investors ranging from the US-based hedge fund such as Elliott Management, Lone Star Funds and Mason Capital Management, to individual investors, Korean-American, Korean-Canadian, US real estate development company, and European manufacturers have relied upon ISDS to progressively seek profits by attacking South Korea. The amount of monetary compensation foreign investors have sought against South Korea now exceeds USD 11.7 billion in just seven years.
We call for the Korean Trade Minister to stop supporting ISDS in the RCEP negotiation. We also call for the Prime Minister to discipline the Trade Minister to be consistent with the Prime Minister's position, and to coordinate relevant administrative branches such as the Ministry of Justice and the Ministry of Foreign Affairs to develop policy options to remove ISDS from international investment agreements involving South Korea. These options should be developed in a transparent way and with a full consultation with civil society. We also urge the RCEP negotiators to develop more fundamental solutions to solve the problems of ISDS, including removal of ISDS from RCEP.
###
People's Solidarity for Participatory Democracy
MINBYUN-Lawyers for a Democratic Society, International Trade Committee
Knowledge Commune
Trade & Democracy Institute