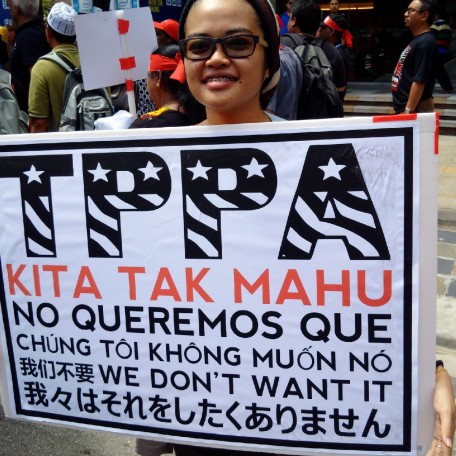 Asia Society Policy Institute | 19 January 2018
Shifting trade winds: US bilateralism & Asia-Pacific economic integration
By Wendy Cutler, Charles Finny, Peter Grey, Kim Jong-Hoon & Shotaro Oshima
BACKGROUND & SUMMARY
The withdrawal of the United States from the Trans-Pacific Partnership (TPP) in January 2017 shook the Asia-Pacific region. It prompted governments and stakeholders across the region to reassess their reliance on American economic leadership and the U.S. market. As the United States stepped back from its economic engagement in the region, Asia-Pacific economies took matters into their own hands and are now pressing ahead with negotiating their own trade and investment agreements within the Asia-Pacific region, and with other major economies around the world.
This Asia Society Policy Institute (ASPI) issue paper, written by an ASPI "Trade Forum" composed of senior trade experts and chaired by Wendy Cutler, updates the findings and recommendations made almost one year ago (March 2017) in another ASPI report, Charting a Course for Trade and Economic Integration in the Asia-Pacific.1 This issue paper reflects the unfolding economic developments in the most dynamic area of the world, and over the course of an unusually eventful year for trade.
This paper makes a number of recommendations to policymakers across the region on how to navigate an increasingly complex Asia-Pacific trade landscape. Key among them are the following:
• The 11 remaining Trans-Pacific Partnership members (TPP-11) are urged to conclude and put into place the Comprehensive and Progressive Agreement for Trans-Pacific Partnership (CPTPP) without delay, and they should be prepared, if necessary, to proceed without all partners. Moreover, existing TPP members should seize on their momentum and start accession discussions with interested candidates—including Asia-Pacific Economic Cooperation (APEC) members, as well as the United Kingdom and Colombia.
• The renegotiation of existing trade agreements ought to focus on updating rules and improving market access, rather than weakening previous commitments. Asia-Pacific economies are closely following the North American Free Trade Agreement (NAFTA) renegotiations and the U.S.-Korea Free Trade Agreement (KORUS) amendment process as they consider whether to pursue bilateral negotiations with the United States.
• Regional actors, including the United States, are encouraged to consider pursuing the negotiation of a stand-alone issue-specific regional agreement, for example, on digital trade. As the world's fastest-growing region for digital trade, the Asia-Pacific has a unique opportunity to play a leading role in setting standards and norms in this area.
• In an effort to rebuild support for trade, policymakers may wish to reconsider the merits of certain long-standing trade agreement provisions that have been particularly polarizing, such as investor-state dispute settlement (ISDS).
Read more (pdf)