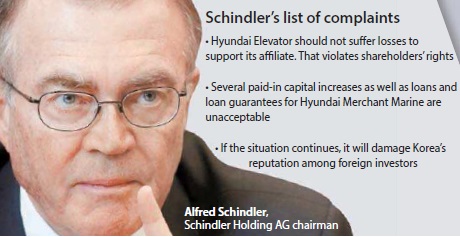 Korea Herald | 15 October 2018
Schindler sues Korean gov't over Hyundai Elevator
[THE INVESTOR] Schindler Group, the second-largest shareholder of Hyundai Elevator, has officially filed for an investor state dispute settlement against the Korean government seeking US$300 million in compensation for losses over its approval of paid-in capital increase of the Korean lift maker from 2013 to 2015.
According to the Ministry of Justice on Oct. 15, Schindler has notified the government that it has filed for arbitration, proposing Hong Kong International Arbitration Center to handle the process.
The move is a beginning of the ISD settlement process. Schindler had sent a letter of intent for arbitration in July, but the two parties failed to resolve the matter through negotiations during the three-month frame. Under the ISD mechanism, a party can file a lawsuit 90 days after submitting a proposal.
The damages claimed by Schindler has increased by around US$40 million from three months ago.
Schindler claims the Financial Supervisory Service illegally approved Hyundai's massive paid-in capital raises. Due to the approval, as it held a 35 percent stake in Hyundai's lift affiliate until 2013, it saw its portion drop to the current 15.87 percent share, along with other financial damages.
Hyundai raised 96.9 billion won in 2013 through a public offering, followed by 190 billion won in 2014 and another 270 billion won in 2015. Schindler had voted against it on all the occasions, saying the scheme was to strengthen the grip of the owner family's management at the cost of shareholders' interest.
Since then, Schindler has lodged several lawsuits against Hyundai but lost all of them.
The complaint comes amid growing ISD claims against Korea for its involvement with conglomerates here. Global activist hedge funds Elliott Management and Mason Capital Management filed an ISD lawsuit in July and September, respectively, for the approval of a controversial merger between two Samsung affiliates three years ago.
By Ahn Sung-mi (sahn@heraldcorp.com)