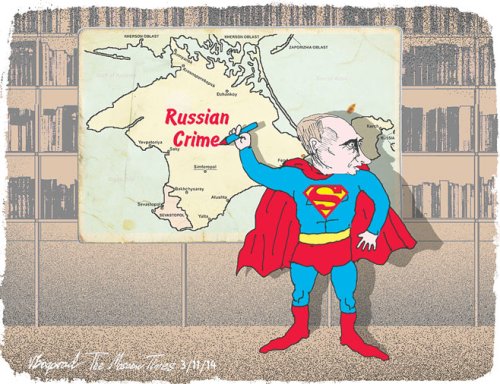 Crime Russia | 11 May 2018
Russia refuses to pay out compensation for annexation of Crimea
The Russian authorities do not recognize the decision of Permanent Court of Arbitration at The Hague (PCA) to recover the compensation in favor of Ukrainian companies that lost their revenues after the annexation of Crimea.
"The Russian Federation does not recognize the decision due to the lack of jurisdiction to consider the aforementioned lawsuit," the press service of the Russian Ministry of Justice told RBC.
The day before, on May 9, the PCA press service announced that the arbitration took the first decision on the suit of a number of Ukrainian companies (some of them have ties with Ukrainian oligarch Igor Kolomoyskyi) that accused Russia of expropriating their assets in the Crimea.
"The PCA issued a unanimous decision (Award on the Merits), concerning issues of liability and damages," the PCA said.
Under the rules of confidentiality, the PCA does not disclose the essence of the solution, but the authoritative legal publications Global Arbitration Review and Law360 reported that the court awarded the group of claimants damages for a total of $159 million. The Ministry of Justice told RBC that the decision is about the compensation of about $140 million without accounting for the awarded interest. According to the UNIAN agency, the payment consists of $130 million in lost revenues plus interest of $20 million, arbitration also obliged Russia to compensate the plaintiffs' expenses for lawyers and costs of participation in the trial. However, a source close to the plaintiffs informed RBC in April 2017 that the total sum of the claims reached $231 million. Thus, the arbitrators appeared to have satisfied their demands only partially.
Russia was out of the arbitration process. Justifying its refusal, Russia notified the PCA in 2015 that the bilateral Russian-Ukrainian investment agreement of 1998 "can not serve as the basis for the formation of arbitration for the settlement of the dispute" and that it "does not recognize the jurisdiction of the Permanent Court of Arbitration at The Hague."
The Russian authorities have the right to challenge the arbitration award with the Dutch national court. In turn, plaintiffs could apply to the courts of different countries for recognition and enforcement of the arbitration award, as former Yukos shareholders did.